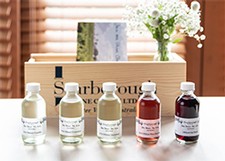 Offshoot Tasting Pack
The tasting packs are filled and dispatched on set days of each week. If you have a specific date by which you need your tasting packs, please contact us first.

Experience the tasting that helped the Scarborough Wine Co win the Inaugural Award for Innovation at the 2021 Hunter Valley Legends and Wine Awards. The Offshoot tasting pack includes:
100ml taste of all the current release wines in our Offshoot Range per person
A tasting mat (just like the ones we use in the cellar door)
Tasting notes to help guide you through the tasting
Opportunity to book a Zoom tutored tasting with one of our Cellar Door Staff
Create your own tasting event with family and friends.
The Offshoot Range features a Verdelho, Vermentino, Chardonnay, Off-Dry Semillon, Tempranillo Rosé and Red Blend. Showcasing contemporary Hunter Valley varieties and styles. In this pack you will receive a 100ml taste of all our current Offshoot Range.
Members pricing is not applicable to this tasting pack and no promotions or discounts can be used when purchasing this pack. Tasting pack orders that are being sent to SA, TAS, WA or NT will attract a freight charge, and we'll be in touch before dispatch.

Please note, we generally dispatch these packs on the same day they're bottled, however the packs do have a limited shelf life. We recommend they are consumed within 2 weeks of the bottling date, which will be listed on your tasting pack. If you would like to enquire about available Zoom tasting times and dates please email the Cellar Door on cellar@scarboroughwine.com.au and we will get back to you. We can also provide a link to a pre-recorded tasting video if your preferred time and date is fully booked.
Product Reviews
Jessica
(20/07/2021 at 6:19 PM)
Awesome at home tasting experience!
Nicola Rockliff
(01/08/2021 at 3:57 PM)
Fabulous... grt lockdown entertainment😍
Meredith
(15/08/2021 at 5:47 AM)
Perfect for at home tasting. Great size and good quality wine.
Kirsty Benjamin
(16/08/2021 at 8:44 AM)
Had a lovely evening virtual wine tasting with friends. so good that we could use the tasting notes as a guide.
Belinda Kimber
(18/08/2021 at 2:11 PM)
Had such a great time at the virtual tasting, Danielle was excellent!
Carolynn
(21/08/2021 at 2:29 PM)
We organised a virtual tasting via Zoom with a group of friends and had the best time! Danielle was excellent and really good fun. Will definitely be ordering some wine.
Ange
(28/08/2021 at 8:06 AM)
This is just what we all needed. I organised our staff to have a virtual tasting in our 9th week of lockdown and home schooling. It was really enjoyable. Kelly our host was very informative and took us through each wine at a good pace. The wines were divine, didn't realise I'd like so many! Thank you for providing such a fantastic experience to us during such a difficult time.
Lyndall
(04/09/2021 at 8:36 AM)
What an awesome virtual wine tasting evening! The wine was beautiful
Christine
(25/09/2021 at 2:31 PM)
Delicious wines with really unique flavours, we have found some new favourites. Great experience.