House Smoked Duck, Crackle, Sweet and Sour Currants, Watercress and Orange with Scarborough Pinot Noir
Serves 4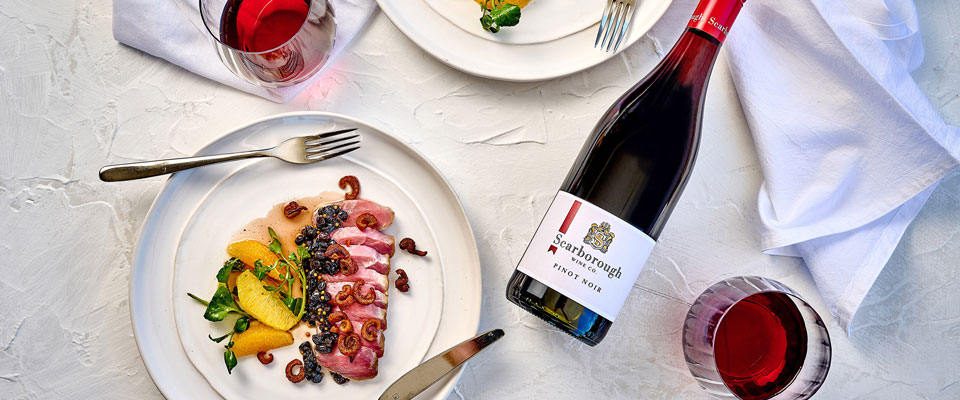 Tea smoking duck at home is much easier than you think. It can be done on a rack over a roasting tray or in a wok with a lid on and sealed tightly with foil. Alternatively, an outdoor smoker is ideal, using apple or peach wood.
The garnish on this dish is the delectable crackle, the smoked duck skin that is fried until it goes crispy. It gives a really nice texture to the dish, that follows the classic wine and food pairing of duck and Pinot Noir.
Ingredients
100g table salt
4 duck breasts skin on, trimmed
140ml cider vinegar
100g caster sugar
20g yellow mustard seeds
100g currants
4 oranges
1 bunch watercress
40g grain mustard
100ml extra virgin olive oil
Smoking mix
50g black tea
300g jasmine rice
1 tablespoon brown sugar
Method
Dissolve the salt in 1 litre of water and refrigerate. Submerse the duck breasts in the brine and leave for two hours. Remove from the brine. Line a wok or tray with foil and scatter the smoking mix on it. Put a wire rack on top with the duck breast. Put the lid on and seal with foil for a tight fit. Cook over a medium heat for 12 minutes. Turn off the heat and leave covered for 30 minutes. Remove and chill the duck.
Boil 100ml of cider vinegar, caster sugar and mustard seeds for two minutes, add the currants and bring back to the boil. Cook for a further five minutes or until slightly syrupy. Check the seasoning, set aside.
Segment the oranges and pick the watercress leaves. Mix the remaining vinegar, mustard and oil together and season.
Remove the skin from the duck breast and thinly slice. In a dry frying pan, gently fry the skin. A lot of fat will come off - save this for duck fat potatoes! Keep watching and the skin will go crispy very quickly. Drain on paper towel.
Slice the duck breast on a platter, scatter the crackle over and the currants on the side. Dress the orange and watercress salad and enjoy with a glass of Scarborough Pinot Noir.
---

Serve with Scarborough Vintage Blend Pinot Noir
This joyous example of traditional Hunter Valley Semillon captivates with lemony freshness that pairs expertly with the rich, citrus flavours of the kingfish.