Crisp Polenta Chips, White Bean Purée, Gremolata (vegan, GF, DF) with Scarborough Offshoot Vermentino
Serves 4-6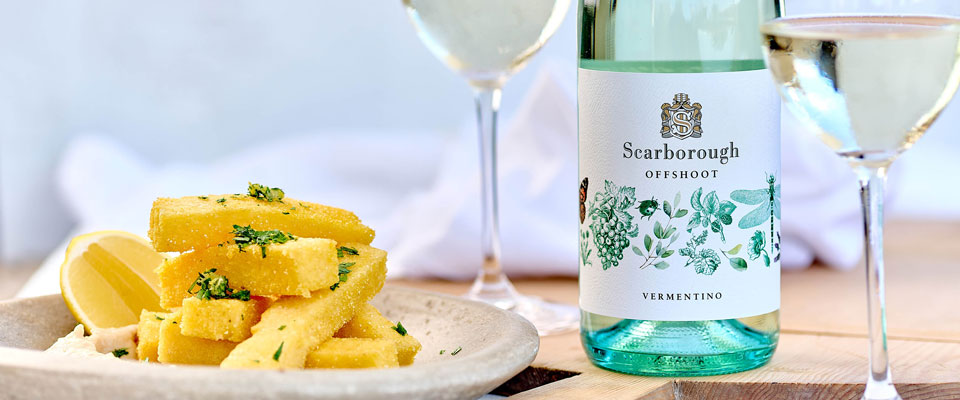 The perfect snack for guests, this simple polenta chip recipe can be made in advance and is suitable for vegan, gluten free and dairy free dietary requirements. The polenta chips can be crisped up in a fryer or oven, shallow fried or cooked in an air fryer. They can also be frozen for up to three months and cooked straight from the freezer.
Ingredients
3 heads garlic
1.5lt vegetable stock (ensure your stock is allergen free if needed)
500g instant polenta
2 x 400g cans of white beans, drained, keep the liquid
3 lemons
50ml extra virgin olive oil
50g fennel seeds
100g sea salt flakes
30g chilli flakes
1 bunch flat parsley
Method
Wrap two heads of garlic into a tin foil parcel and cook at 180°c for 40 minutes. They should be soft. Leave to cool.
Boil the vegetable stock and rain in the polenta, whisking all the time. Turn down the heat and with a wooden spoon stir until soft and creamy. Season. Pour on to two trays (20cm x 30cm) lined with oiled baking parchment. Cool, cover and refrigerate overnight.
Squeeze the pulp from the roast garlic and process with the beans, zest and juice of two lemons, salt and pepper to taste and olive oil; add a bit of the reserved liquid for a smooth dipping consistency.
Toast the fennel seeds, cool then grind coarsely in a pestle a mortar. Stir in the salt and chilli flakes.
Chop the flat parsley leaves, finely chop the remaining garlic, and zest the lemon. Mix together.
Cut the polenta into 2cm by 8cm strips and deep fry in small batches until golden. Sprinkle with the fennel chilli salt and serve on a platter with the white bean purée.
Scatter with the gremolata and enjoy with a crisp glass of Scarborough Offshoot Vermentino.
---

Serve with Scarborough Offshoot Vermentino
A delightful twist on a Mediterranean variety. Notes of orange blossom with bay leaves and almonds.