Gravlax
Serves 10 (as a starter)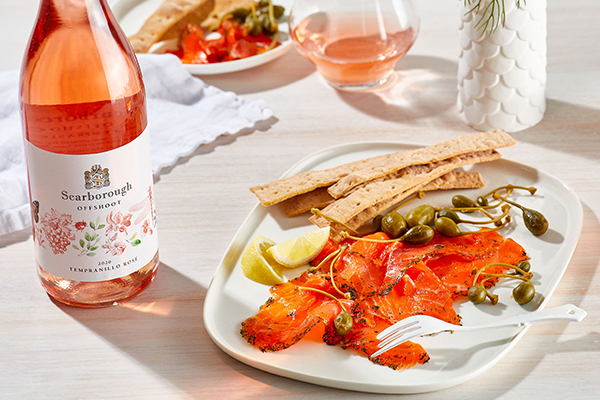 This is a dish that you will always find at a Scarborough family get-together. Merralea Scarborough is an absolute whiz in the kitchen and this is one of her favourite and easiest recipes to prepare ahead of time. You can serve this with some homemade dill pickles as suggested or even on some delicious fresh bread or in a salad.
Ingredients
500g coarse sea salt
400g white sugar
1 cup finely chopped dill
60ml (1⁄₄ cup) gin or vodka
1 tbsp juniper berries, coarsely crushed
1 (about 1kg) salmon fillet, skin on and boned
Dill pickles, sour cream, rye bread and lemon wedges, to serve
Method
Combine salt, sugar, dill, gin and juniper berries in a bowl. Place two sheets of plastic wrap, long enough to envelope salmon, overlapping by half, on a benchtop and spread with half the salt mixture. Place salmon skin-side down on top, cover with remaining salt mixture, wrap tightly in plastic, then place on a large, deep tray.
Top with a smaller tray or board and weigh down with food cans and refrigerate for 12 hours. Remove weights, flip salmon, replace tray and weights, and refrigerate for another 12 hours.
To serve, unwrap salmon and wipe clean of salt mixture. Using a sharp knife, thinly slice gravlax and serve with dill pickles, sour cream, rye bread and lemon wedges.

---

Serve with Offshoot Rosé
Strawberries abound on the nose and in the mouth of our Rosé. Its creamy, more-ish texture and dry, clean finish makes it the ideal partner for the gravlax.