Panzanella Salad
Serves 4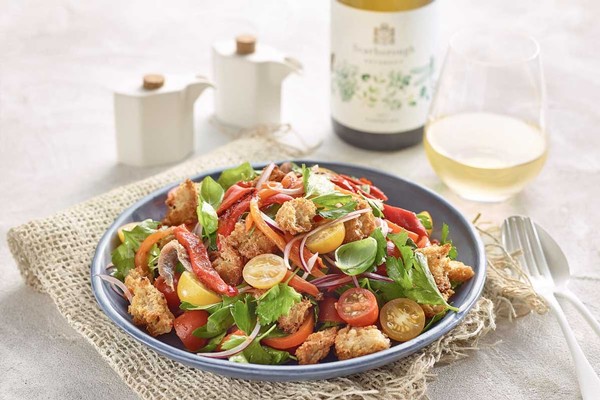 All of us in the Scarborough family are very keen growers of tomatoes, so when they are in season, we always have an oversupply. This salad is the perfect way to use up all those delicious homegrown tomatoes and if we are lucky, we will also use some of Jerome's homemade sourdough.
Ingredients
1 slice day-old sourdough (the best you can buy!)
*600g mixed tomatoes
1 red onion, finely sliced
30g capers, rinsed
300g flame-roasted pimentos, cut into strips
12 white anchovy fillets
1 bunch flat leaf parsley, leaves picked
1 bunch basil, leaves picked
120ml extra virgin olive oil
30ml red wine vinegar
Method
Preheat oven to 140°. Tear bread into bite-sized pieces and cook in oven for 30 minutes.
Roughly chop tomatoes and combine with red onion, capers, pimentos, anchovies, herbs and bread. Dress with combined oil and vinegar, season and serve immediately.
*This recipe relies on using the best ingredients you can find. Tomatoes are the key ingredient, so it's best not to use them if they're not in season, at their peak.
---
Serve with Offshoot Verdelho
The Offshoot Verdelho has generous tropical fruit palate and a zesty grapefruit finish which compliments to sweetness of the tomato and basil in the salad.