Beef Cheek Pithivier, Licorice, Charred Broccolini with Scarborough 'The Obsessive' Shiraz
Serves 4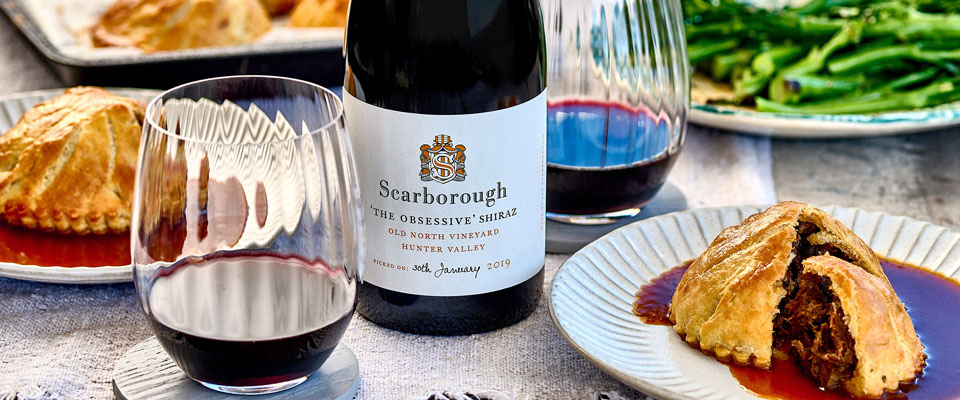 Our slow-cooked beef cheeks in red wine are delicious as they are, but combined with homemade pastry they are even better. The pastry is very easy to work with and this recipe can be adapted to all sorts of fillings - braised lamb shoulder or roast mushrooms and olives or chicken and tarragon to name a few. The addition of liquorice root gives this dish a great umami taste that pairs perfectly with The Obsessive Shiraz.
Ingredients
500g trimmed and denuded beef cheeks
300ml red wine
6 cloves garlic, crushed
1 bunch thyme, leaves finely chopped
80g liquorice root, available in Asian store
1 leek, washed and sliced
2 brown onions, diced
200g sliced Swiss brown mushrooms
1 tablespoon tomato paste
400g tinned crushed tomatoes
1 litre chicken stock
250g salted butter
250g plain flour plus a bit extra for rolling the pastry
250g cream cheese
1 egg
2 bunches broccolini
Method
Marinate the beef cheeks in red wine, garlic and thyme overnight in refrigerator.
Remove cheeks keeping the marinade, pat dry then brown on both sides in a heavy casserole pot.
Place the liquorice root in muslin cloth and tie with string.
Remove the browned cheeks from the casserole pot and set aside, then add to the pot the leeks, onions and mushrooms, colour slightly then add the reserved marinade, tomato paste, crushed tomatoes, the bag of liquorice root and chicken stock. Cover with a tight fitting lid or double foil. Place in a 160°c oven for 5 hours. They should be very tender, if not put back in the oven for another hour.
Remove the bag and discard. Remove the cheeks, reduce the sauce, season and reserve. Gently mash the cheeks adding a little bit of the sauce until a rich but firm stew is formed.
In a food processor blitz the butter and flour till it has a breadcrumb texture. Add the cream cheese and mix until combined. Refrigerate for a couple of hours to allow it to rest.
Roll out four discs at 10cm wide and four discs at 15cm wide on a lightly floured work bench. Place a 150g ball of the cheek mixture in the middle leaving a 2cm border. Brush the edge with egg wash and place the lid on top. Seal well. Trim of any excess pastry with a cutter and brush with egg wash. Cook in a 180°c oven for 20 minutes.
Chargrill the broccolini on the barbeque and serve with the pithivier, sauce and a glass of Scarborough The Obsessive Shiraz.
---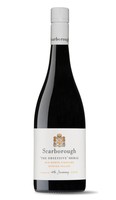 Serve with 'The Obsessive' Shiraz
Aromas of mulberry and restrained oak lead into a palate of fine cigar box and pencil shaving characters, followed through with fine fruit flavours of blackberries and plums and finishing with freeze dried raspberries dipped in milk chocolate.