Lightly Cured Ocean Trout Tartare, Brioche, Kewpie Mayo and Crispy Shallots with Scarborough Offshoot Chardonnay
This cured ocean trout dish is perfect 'no bake' option on a summer day. The buttery brioche works well with the fish and the zest from the lemon, and Kewpie mayo is a winner on just about anything! Match with a glass of our Scarborough Offshoot Chardonnay.
Serves 4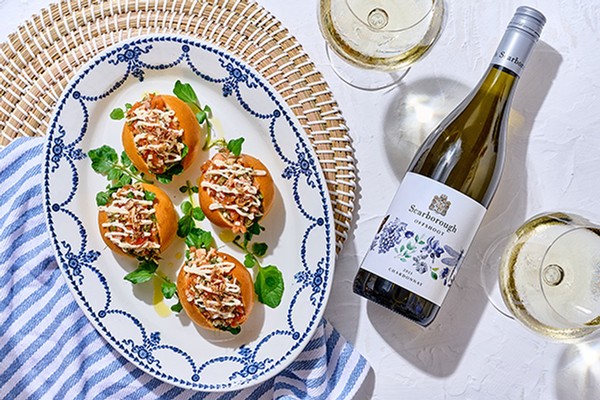 Ingredients
100g caster sugar
80g table salt
400g piece of ocean trout
4 tablespoons of Kewpie mayonnaise, plus extra for garnishing
2 lemons, zested and juice
50g capers, finely diced
4 eschalots, peeled and finely diced
1 bunch watercress
4 brioche slider rolls
50g crispy shallots, available from any Asian supermarket
Method
Place a large piece of glad wrap on a bench, make sure there is enough overhang.Mix the salt and sugar together and put a third on the glad wrap.
Place the fish on top, skin side down. Pour the remaining mixture on top of the fish and wrap tightly.
Put in the fridge on a tray with a gentle weight on top for 2 hours. Remove from the fridge and rinse well, pat dry, remove the skin and blood line and dice coarsely but neatly.
Add four tablespoons of Kewpie mayonnaise into a bowl and add a few teaspoons of lemon juice so it's slightly runny. Add the capers, lemon zest, eschallots and a few a watercress leaves to the ocean trout, add a squirt of mayonnaise and season.
Cut the brioche down the middle from the top. Fill firstly with some watercress leaves then top with the tartare and garnish with more mayo, watercress and crispy shallots.
---

Serve with Offshoot Chardonnay
A chiselled representation of Chardonnay with zippy citrus notes and a hint of flintiness.