Introducing Keepers of the Flame
Looking to the past has always ignited our passion for the future. This range of exceptional Hunter Valley wines, affectionally named Keepers of the Flame, celebrates the inspired vision and future of Scarborough Wine Co. Take a moment to discover our newest wine release.
Each release of Keepers of the Flame will be slightly different to the last. They are nurtured with care and collaboration across all aspects of our business – Sally, Jerome and Liz coming together from vineyard to bottle, always highlighting the very best of the season. Enjoy.
Lighting the Flame for the Future: What makes Keepers of the Flame special?
Keepers of the Flame heralds a new era of stewardship for Scarborough Wine Co. This limited-edition wine range leverages the expertise of the next generation, each family member making a mark in their own field.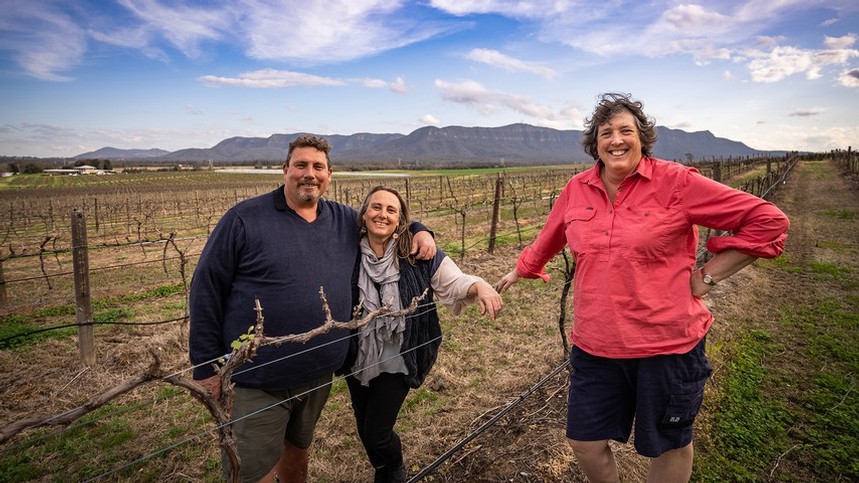 Jerome Scarborough - 2021 Viticulturist of the Year, Hunter Valley Wine and Tourism
Sally Scarborough - 2020 Hunter Valley Innovation Award
Liz Riley - 2020 Graham Gregory Award recognising her 30 year contribution to the NSW wine industry, 2017 ASVO Viticulturist of the Year
Together, the next generation, the "Keepers of the Flame", collaborate to deliver these new small-parcel wines that showcase the distinctive vineyards of their Hunter Valley home. Viticulture here requires a different approach than many other regions when it comes to sustainability. We are often dealing with adversity – from one extreme to the next. This means we need to be agile to ensure we can continue to harvest the best crop possible each vintage.
Keepers of the Flame will be different each year, testimony to the evolution in the vineyards and the conditions thrown our way. We begin with the 2019 vintage, which is, of course, a chardonnay, sourced from our Gillards Road property around our cellar door. But there's a story to the wines in the glass that reflects the prevailing conditions of each growing season and the parcel of wine selected. The 2020 and 2021 vintages come from the Cottage Vineyard, from different clones and soil profiles, which give a very different profile to the wines.
The future is bright. Keepers of the Flame is continuing the passion for what Scarborough stands for – the grower, the maker and the marketer coming together to ensure the wine is fitting to bear the family name.
Want to know about the winemaking philosophy and what makes these wines different from the other Scarborough Wines you know and love? DISCOVER MORE