Fish, Prawns & Clams with 'Nduja and Caper & Anchovy Butter
Serves 4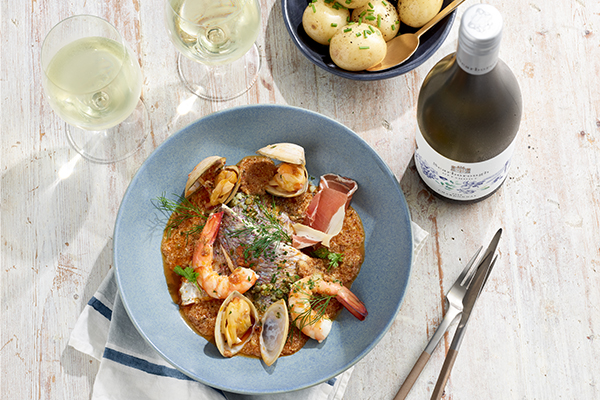 This flavoursome seafood dish is simple to make and just so delicious. It's the perfect dish to impress dinner guests, or to whip up through the week as a little treat. There will be leftover Caper & Anchovy Butter - just slice and freeze and use on future fish or chicken dishes.
Ingredients
300g firm white fish; mahi mahi, snapper or groper is ideal
4 large green prawns, peeled and deveined
300g Cloudy Bay Clams
60g 'nduja
50g Caper and Anchovy Butter, sliced
50ml Offshoot Chardonnay
30g thinly sliced serrano ham
30g picked soft herbs, such as chervil, dill and parsley

Caper & Anchovy Butter
300g soft butter
70g rinsed baby capers, lightly chopped
20g finely chopped garlic
50g finely chopped shallots
50g chopped anchovies
20g chopped flat leaf parsley

Method
To make the Caper & Anchovy Butter, mix all of the ingredients together then place onto a sheet of plastic wrap, roll into a log and chill in the fridge.

Preheat oven to 180°. Place the fish, prawns, clams, 'nduja and butter into a metal or earthenware tray about 30cm x 20cm and 10cm tall.

Add Chardonnay, cover with foil and cook in oven for 20 minutes.

Garnish with the serrano ham and herbs. Enjoy with steamed new potatoes and a mixed-leaf salad.

Serve with the Offshoot Chardonnay
This elegant style of Chardonnay allows the fruit characters to shine, with a subtle line of oak adding interest. The palate starts off creamy and clean with overtones of almond and lemon pith, with a fresh lemon/lime finish.