Smoked Trout Dip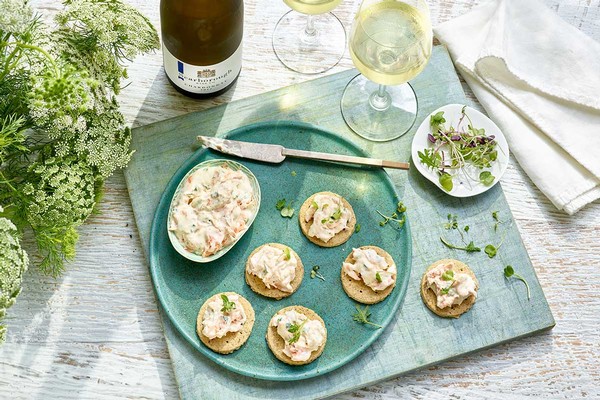 Ingredients
1 (360g) whole smoked rainbow trout
250g tub spreadable cream cheese
1⁄₃ cup Greek-style yoghurt
1 tbsp horseradish cream
1⁄₄ cup lemon juice
2 tbsp fresh dill, roughly chopped
2 tbsp fresh chives, finely chopped
1 large gherkin, finely diced
1⁄₂ small red onion, finely diced
Dill sprigs, lemon zest and fresh bread
or crackers, to serve
Method
Remove and discard skin and bones from trout. Using a fork, flake into small pieces.
Using an electric mixer, beat cream cheese, yoghurt, horseradish and lemon juice on low speed until mixture is smooth and combined. Fold in trout, dill and chives. Season with salt and pepper. Cover with plastic wrap. Refrigerate until ready to serve.
Sprinkle dip with gherkin and onion. Top with dill sprigs and lemon zest. Serve with fresh bread or crackers.
---

Serve with Offshoot Chardonnay
Our Offshoot Chardonnay is a modern expression of Chardonnay with lean, steely notes, peach and subtle oak. It has a long, lemony finish which pairs well with the smoked trout dip.