Roast Chicken with Roast Potatoes & Baby Carrots: Serves 4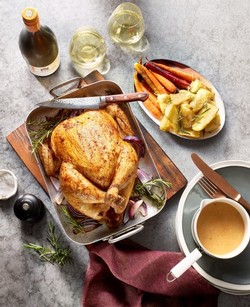 Some days just call for a Roast Chicken at the end of the day. As a family, one of our favourite dishes to sit down together and enjoy is a Roast chicken with delicious vegetables. Our Yellow Label Chardonnay is the perfect match tot his easy roast and we certainly enjoy it after a long day in the cellar door.
Ingredients:
2.4kg free-range chicken
3 bulbs garlic, skin on and portioned into cloves
1 lemon, quartered
4 sprigs rosemary
2 tbsp olive oil
1 tbsp smoked paprika
2 red onions, peeled and halved
500g kipfler potatoes, cooked and peeled
3 bunches mixed heirloom baby carrots
2 tbsp flour
1/2L good-quality chicken stock
Method:
Preheat oven to 220C. Stuff chicken with 8 cloves of garlic, lemon pieces and rosemary sprigs. Rub chicken all over with olive oil, paprika and season.
Place onions in a roasting tray then place chicken on top. Cook in 220C oven for 20 minutes, then reduce heat to 180C and place potatoes, remaining garlic and carrots around chicken in pan. Cook for 1 hour. Check chicken is cooked by placing a skewer in thickest part of leg – juices should run clear. Remove roast veg, caramelised red onion and chicken from pan and keep warm.
Place roasting tray on cooktop over low heat and add flour, then cook for 1 minute. Add chicken stock and garlic and lemon from chicken cavity. Mash with a spoon to squeeze out all juice and pulp from lemon and garlic. Let it bubble away until it forms a nice gravy consistency then strain into a gravy jug.
Portion roast chook and serve with roast vegies, caramelised red onion and Scarborough's Yellow Label Chardonnay.