Chicken & Pistachio Terrine
Serves 8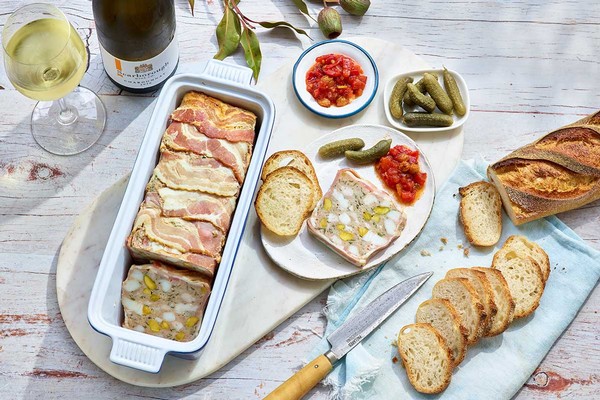 This recipe is one of Merralea Scarborough's absolute must-haves for the family festive table. The terrine is really quite simple to make, and you can make it a few days in advance. Merralea loves serving the terrine with a red capsicum chutney, cornichons and fresh crusty bread.
Ingredients
8 rindless bacon rashers
350g chicken mince
350g veal mince
200g pork back fat, coarsely minced
2 garlic cloves, crushed
1⁄₂ cup pistachios
50ml brandy
1⁄₂ cup continental parsley, finely chopped
1⁄₄ cup sage leaves, finely chopped
1 tbsp lemon thyme, finely chopped, plus extra to garnish
1 egg, lightly beaten
1 1⁄₂ tsp salt
1⁄₂ tsp ground white pepper
Red capsicum chutney, to serve
Method
Preheat oven to 160°. Line a 7cm-deep, 7cm x 24.5cm (5-cup-capacity) terrine mold or loaf tin crossways with bacon rashers, overlapping and allowing ends to overhang.

Place mince, fat, garlic, pistachios, brandy, herbs, egg, salt and pepper in a large bowl. Mix until well combined. Spoon into prepared terrine mold and press firmly. Fold over bacon rashers to enclose. Cover with foil.

Place terrine mold in a deep roasting pan. Pour enough boiling water into roasting pan to come halfway up side of terrine. Bake for 1-1¼ hours or until firm and juices run clear when a skewer is inserted into centre. Remove terrine from roasting pan, uncover and let stand for 10 minutes.

Drain juices. Place baking paper over terrine mold. Top with foil and weigh down with heavy cans. Refrigerate overnight. Turn onto a chopping board.

Allow to come to room temperature for 30 minutes. Slice, plate, garnish with extra thyme and serve with capsicum chutney.
---

Serve with Yellow Label Chardonnay
With a light yellow hue and a luscious texture this Chardonnay is the ideal match for the terrine. With vanilla oak, peach and citrus notes, this has a long finish with a natural acid line that cuts through the richness in this dish.