Slow-Braised Wagyu Beef Cheeks, Star Anise, Roast Baby Carrots and Horseradish Crème Fraîche
Serves 4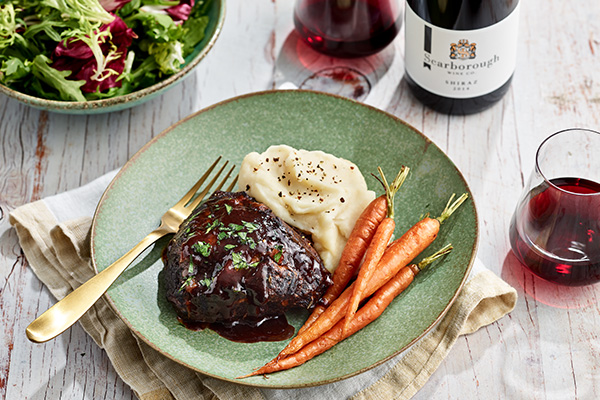 There's just something cosy and satisfying about slow-cooked meals, and this melt-in-your-mouth beef dish is no different. The perfect indulgence for a weekend dinner, it's best enjoyed with a glass of Shiraz and good company.
Ingredients
4 wagyu beef cheeks, sinew removed
1 bottle good red wine
20ml olive oil
½ bunch celery, roughly chopped
1 leek, roughly chopped
1 onion, peeled and diced
1 litre chicken stock
1 bunch thyme, chopped
6 bay leaves
2 star anise
80g tomato paste
20ml Lea & Perrins Worcestershire sauce
100g crème fraîche
1 lemon, zested and juiced
40g horseradish cream
2 bunches baby carrots, scrubbed, leaving a little bit of the stalk on
20g butter
Method
Marinate beef cheeks in wine for 2 days.

Preheat oven to 150°. Remove from the marinade and pat dry. Brown in a frying pan with olive oil. In a good-sized casserole dish, gently sauté the celery, leek and onion until golden brown, add the marinade and reduce by half. Skim off any fat.

Add the stock, herbs, star anise, tomato paste and Worcestershire sauce. Add the cheeks, cover with a tight-fitting lid and cook in oven for 6 hours. Check - the cheeks should be very soft.

Leave in the liquid overnight to let rest.

Whip the crème fraîche until firm, then add the lemon juice, zest and horseradish cream. Season to taste.

To serve, gently warm the casserole and remove the cheeks. Strain the liquid, then reduce until you have a lovely sauce. Roast the carrots in the butter for 20 minutes in a 180° oven until tender. Gently reheat the cheeks for 10 minutes.

Serve in a warm bowl with the sauce, carrots and a dollop of horseradish crème fraîche on top. Excellent with roast garlic mash or herby dumplings and a glass of Black Label Shiraz.
---
Serve with Black Label Shiraz
A good level of spice backed up with a red berry palate, shows strength and complexity and perfectly compliments this delicious beef dish.