Panettone and Marmalade Bread and Butter Pudding with Scarborough Late Harvest Semillon
Serves 4 to 6 people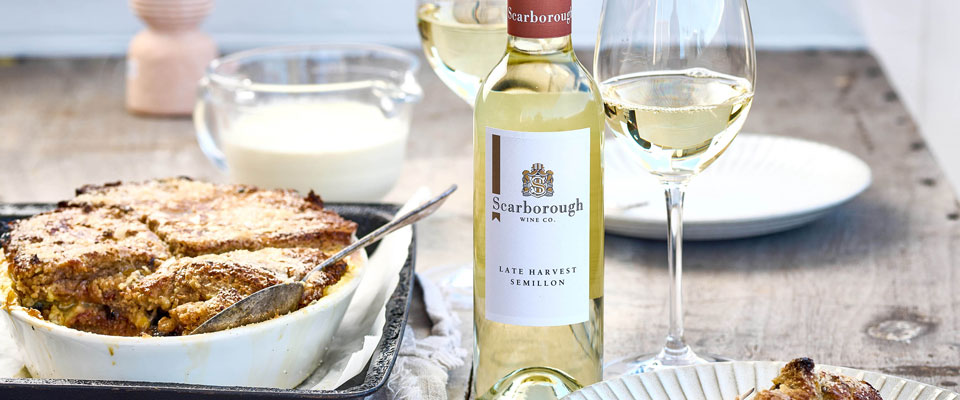 Bread and butter pudding is one of the ultimate comfort desserts. This version uses panettone, a light and delicious Italian yeast cake studded with candied orange and lemon peel. It's traditionally eaten at Christmas but is available all year round at good Italian delis. Also suitable is fruit loaf, croissants or good quality white bread.
This pudding is lovely eaten straight from the oven but just as good reheated the next day and is perfect with a glass of Scarborough Late Harvest Semillon.
Ingredients
1 large candied fruit panettone, cut into thick slices
120g soft butter
50g marmalade
80gms sultanas, soaked overnight in Scarborough Late Harvest Semillon
600ml full fat milk
600ml double cream
1 vanilla pod
4 eggs
180g caster sugar
Method
Butter the slices of panettone and place one layer in an oven proof dish 5cm high and about 30cm long. Dot the marmalade and sultanas over the top. Place another layer of buttered panettone on top.
Put the milk and cream into a saucepan with the split vanilla pod. Gently heat to extract flavour. Beat the eggs and sugar until fluffy. Pour the warm cream mixture through a sieve over the whipped eggs and sugar. Ladle this carefully over the panettone and leave to rest for 15 minutes.
Place the dish into a larger dish and pour in hot water to come halfway up the side. Cook for about 45 minutes in a preheated 160c oven until firm but slight wobbly. It should be golden brown with a caramelised top.
Serve with double cream, fresh berries and a glass of Scarborough Late Harvest Semillon.
---

Serve with Scarborough Late Harvest Semillon
Unashamedly textural exhibiting aromas of fig and bright citrus, this wine is marvelously balanced between fruit sweetness and driving acids.