Prawns, Pipis & Fish Linguini with Cherry Tomatoes & Basil
Serves 4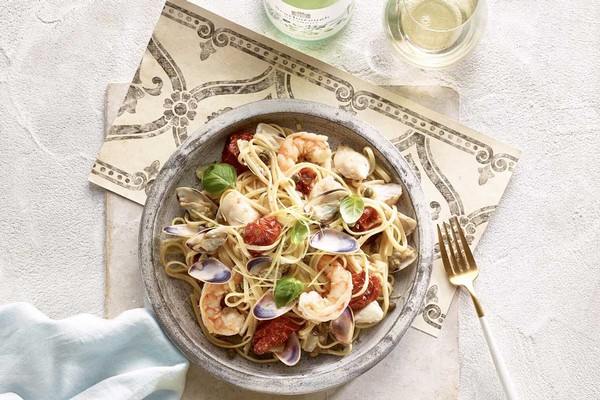 Scarborough's winemaker Jerome and his wife Liz are keen pasta makers, so when we get our hands on some delicious fresh seafood they will churn out a batch of their homemade pasta for this recipe. And because Scarbie patriarch Ian is so damn hard to buy presents for, his birthday present often consists of homemade pasta. Not a bad gift, right?
Ingredients
1 punnet cherry tomatoes
Extra virgin olive oil
1 onion, diced
4 garlic cloves, smashed
1kg rinsed pipis
100ml Scarborough Offshoot Vermentino
500ml fish stock
100ml double cream
500g linguini
12 Australian green prawns, peeled and deveined
400g snapper or flathead, cut into 3cm cubes
1 lemon, juiced and zested
40g baby capers, rinsed
1 bunch basil, leaves picked

Method
Preheat oven to 120°. Place tomatoes on a baking tray, drizzle with olive oil, season and cook in oven for 40 minutes.

In a large saucepan, heat olive oil and fry onion and garlic until soft. Add pipis and wine. When pipis open, remove from liquid. Add fish stock and reduce by half.

Add cream and return to boil until sauce slightly thickens. Strain sauce through a fine sieve and season. In another saucepan, boil 4L of water and cook pasta according to the manufacturer's instructions.

When pasta is ready, reheat pasta sauce in pan, add prawns and fish and gently cook for 2-3 minutes. Add pipis, lemon juice, zest and capers.

Strain pasta, reserving 1 cup cooking liquid. Add pasta to sauce and toss gently, adding cooking liquid to make a nice coating sauce.

Garnish with tomatoes and torn basil.
---

Serve with Offshoot Vermentino
The strong fruit flavours of the Vermentino are held in check by steely minerality and a zesty lime finish which compliments the fresh seafood.