Chicken Liver Pâté
makes 1 cup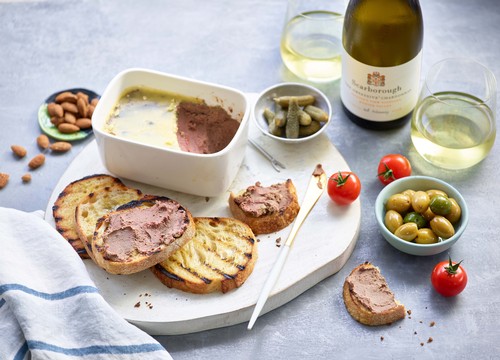 This recipe comes from the one and only Stephanie Alexander's 'The Cook's Companion' but is an all-time Scarborough family favourite.
Ingredients
600g chicken livers(to make 500g cleaned)
100g softened butter
2 tbsp of brandy
Freshly grated nutmeg
Method
Cut away any oxidised liver (it will be a greenish colour) as even a scrap will make the pâté bitter. Pull each lobe away from its connecting threads.

Heat 1 teaspoon of the butter in a non-stick frying pan until just foaming. Add half the livers and sauté quickly until golden brown on each side and still quite soft in the middle.

Transfer livers to a plate. Add another teaspoon of butter and sauté the remaining livers in the same way until golden brown.

Return the first batch of livers to the pan. Increase the heat and add the brandy. Ignite the brandy with a match, tilting the pan to spread the flames. Season with salt, pepper and grated nutmeg. Transfer the livers to a food processor and blend. You may need to press the pâté through a coarse sieve to extract any sinews that remain. Return the liver mixture to the food processor and incorporate the remaining butter. Season to taste.

Press the pâté into a small pot or pots and chill well. If you would like to stop the pâté from oxidising, finish off with a thin layer of clarified butter.

Serve with hot toast.
---

Serve with 'The Obsessive' Chardonnay
It shows upfront new French oak with white nectarines, peaches and melon characters with hints of nutmeg and cloves. This wine can be enjoy now as a young release or if you are able to cellar your patience will reward you.