Bouillabaisse of Fish, Prawns, Calamari and Mussels with Rouille and Croutons with Scarborough Yellow Label Chardonnay
Serves 4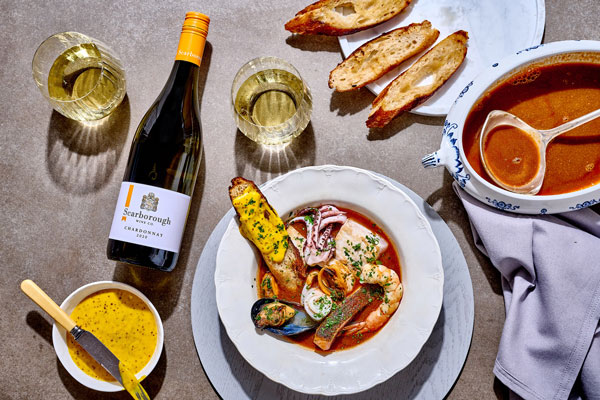 A classic dish from the southern French port of Marseille, this Bouillabaisse recipe is a wonderful celebration of seafood. This version is a bit more refined and more pleasurable to eat without fighting a mountain of fish bones. Serve with a few slices of good sourdough, and a glass of Scarborough Yellow Label Chardonnay.
Ingredients
1kg mussels, cleaned and de-bearded
300ml dry white wine
150ml extra virgin olive oil
1 bulb fennel, sliced
1 red onion, sliced
1 head garlic, broken into cloves, save 3 for the rouille
1 green blue swimmer crab
2 kg fish bones, chopped into smaller pieces
50ml Pernod or brandy
1g saffron threads
1 star anise
1 kg ripe tomatoes, quartered
1 tablespoon tomato paste
1 tbsp smoked paprika
1 orange
1 bunch dill
1 litre water
1 sourdough loaf
4 egg yolks
1 tbsp Dijon mustard
400g fillets of fish cut into chunks (Bass Grouper, Ocean Trout, Trevally, Snapper, John Dory, Salmon, Red Gurnard and Barramundi all work well)
8 loligio calamari cleaned, cut into rings and keeping the tentacles
8 large Queensland green prawns, deveined, shells and heads removed but retained
Method
Heat a heavy based saucepan with a tight-fitting lid, add the mussels and 150ml wine and cook for 2 minutes with a lid on. Carefully remove the mussels as they open. Set aside and reserve the cooking liquid.
Heat 50ml of olive oil in a large heavy based saucepan. Add the fennel, onion and garlic and
cook for 5 minutes. Add the crab, prawn shells and fish bones and cook for another 10 minutes. Pour in the Pernod or brandy and cook for a further minute. Add the saffron, star anise, tomatoes, tomato paste, smoked paprika, zest and juice from the orange, half a bunch of dill, 250ml of white wine, reserved mussel liquor and 1lt of water. Bring to the boil then simmer for 40 minutes. If possible, blitz with a hand-held blender or food processor then strain through a sieve. Reduce the sauce until it is slightly thicker. Season with salt and pepper.
Cut 8 slices from the sourdough, drizzle with olive oil and char-grill. Rub once with a cut garlic clove then keep warm.
Remove the crusts from the rest of the sourdough and put the bread in a food processor. Blitz with the egg yolks, saffron, mustard and garlic and slowly add the olive oil until it's thick. Season.
In a large frying pan or on a BBQ cook the fish, calamari and prawns. Serve in 4 bowls with the mussels, a couple of ladles of the sauce and a few sprigs of dill. Serve with the rouille spread on the croutes, a bottle of Yellow Label Chardonnay and a toast to Vive la France!
---

Serve with Yellow Label Chardonnay
Stone fruit and honeyed cashew aromas leap from the glass, followed by a complex butterscotch and melon flavour profile skipping across a rich, creamy integrated palate.
BUY YELLOW LABEL CHARDONNAY NOW