Crispy-Skin Ocean Trout, Salsa Verde & Spring Onion
Serves 4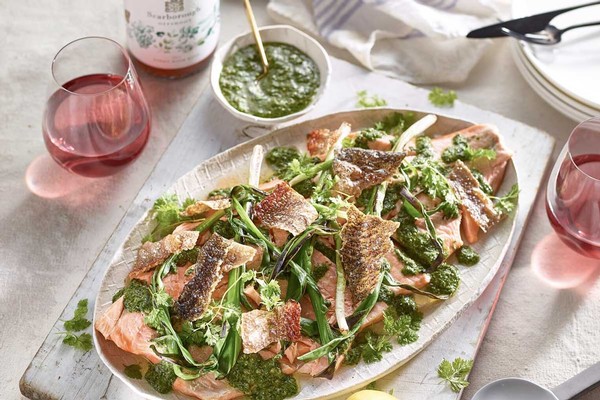 Although some people are a little nervous about preparing a whole side of fish, this recipe is so simple. You can also use the salsa verde in this recipe as a marinade for just about any meat, so make a little extra and pop it in the fridge for later. The fresh flavours of this dish make it an ideal match for just about any crisp white wines, but we particularly enjoy this most matched with our Offshoot Tempranillo Rosé.
Ingredients
1 fillet of ocean trout, (1.2kg) scaled and boned
1 bunch tarragon, leaves picked
1 bunch chervil, leaves picked
1 bunch flat leaf parsley, leaves picked
1 bunch basil, leaves picked
50ml sherry vinegar
30g white anchovies
1 tbsp capers
2 tsp Dijon mustard
2 garlic cloves
100ml extra virgin olive oil
12 spring onions, trimmed
Method
Preheat oven to 210°. Place fish skin-side up on a tray covered with baking paper and season skin with salt and pepper. Cook for 12 minutes. Very gently remove fish skin and place on a separate tray lined with baking paper. Keep fish warm.

Place skin in oven for a further 10-15 minutes until skin is crisp. Remove and snap into shards.

Place a nice serving platter over fish and flip over.

Whiz herbs, vinegar, anchovies, capers, mustard, garlic and oil in a food processor until smooth. Season to taste.

Heat a skillet or frying pan and chargrill or fry spring onions for a few minutes.

Gently tease apart fish into pieces, drizzle salsa verde over top and garnish with onions and fish skin crackle.
---

Serve with Offshoot Rosé
This Offshoot Rosé begins with aromas of stewed rhubarb and macerated strawberries, leading into a palate of freshly cut watermelon with a squeeze of lime.