Pickled and Raw Beets, Roast Pumpkin, Tahini Yoghurt, Pomegranate, Pepitas with Scarborough Offshoot Verdelho
Serves 4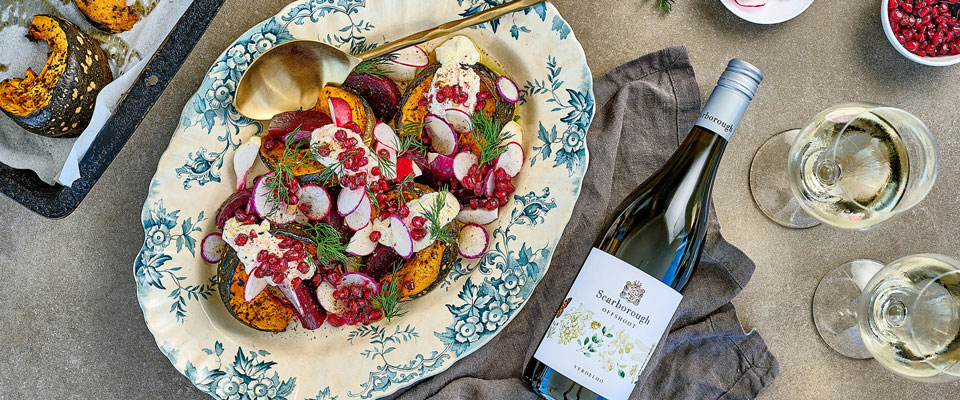 A delicious dish, full of contrasting textures and flavours. The Moroccan spice really brings out the pumpkin's sweetness.
Ingredients
100ml cider vinegar
80g caster sugar
1 tablespoon fennel seeds
1 tablespoon yellow mustard seeds
1⁄2 tablespoon chilli flakes
1 tablespoon salt
300g mixed baby beets
300g Greek natural yoghurt
80g tahini paste
4 cloves garlic, peeled and crushed
100ml extra virgin olive oil
2 lemons, juiced and zested
1 pomegranate
Half a Queensland Blue or Kent pumpkin, about 800g, skin on
50g Moroccan spice mix
50g pepitas, toasted
50g soft herbs - dill, basil and flat parsley are perfect
Method
This recipe needs to be started a day ahead.
Boil the vinegar, sugar, fennel and mustard seeds, chilli flakes and salt for one minute. Cool.
Cook 200g of the beetroot until tender, remove skin and cut into wedges, put in the pickling liquor and leave for at least a day.
Strain the yoghurt overnight in a muslin cloth. In a bowl mix the tahini, garlic, 50ml olive oil, yoghurt, lemon juice and zest. Season.
Halve the pomegranate and place upside down in your hand. Over a bowl tap the skin with a wooden spoon and the seeds will drop out. Remove any white pith.
Cut the pumpkin into four thick wedges. Rub with the remaining oil and Moroccan spice mix and roast at 180°c for 30 minutes until slightly caramelised and soft.
Thinly slice the remaining beets with a mandolin or a very sharp knife.
Individually plate up the roast pumpkin and pickled beets, add a few good blobs of tahini yoghurt, scatter the pomegranate, sliced beets, pepitas and garnish with herbs. A nice drizzle of oil at the end is fantastic. Enjoy with a glass of Scarborough Offshoot Verdelho.
Enjoy with our Scarborough Offshoot Verdelho
---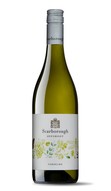 Serve with Offshoot Verdelho
A good level of spice backed up with a red berry palate, shows strength and complexity and perfectly compliments this delicious beef dish.