Scallops with Hazelnut and Coriander Butter
Serves 2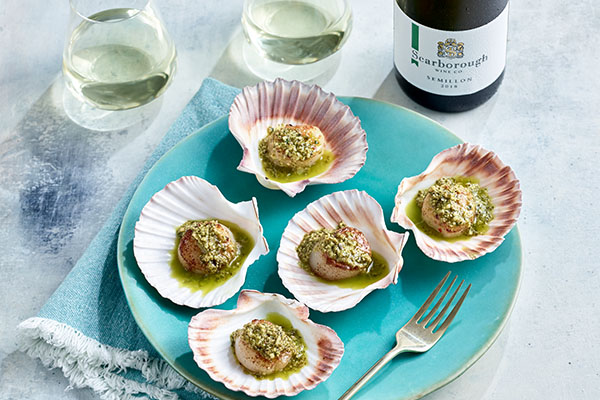 Rick Stein is one of our foodie heroes – the way he cooks with seafood is inspired. This recipe is a go-to dish for when Sally Scarborough is entertaining. Over the years, she has replaced the scallops with Balmain bugs and prawns. It's a very Australian dish, and that's why we love it.
Ingredients
8 scallops in shell
Handful of hazelnuts
½ shallot, roughly chopped
½ bunch of coriander, leaves only, roughly chopped
½ bunch of mint, leaves only, roughly chopped
80g unsalted butter
1 tbsp lemon juice
1 tbsp lime juice
Method
Clean scallops and remove roe. Toast hazelnuts under grill for about 5 minutes, or until golden brown. Then remove hazelnut skins by rubbing in a tea towel.

Add shallot, coriander and mint to a food processor along with hazelnuts, butter, lemon and lime juice, a pinch of salt and grind of black pepper. Mix ingredients until roughly blended.

Cook scallops in a frying pan for 1 minute each side to colour. Place scallops back into shells, place 1 tablespoon of butter mixture on top of each and cook under a moderate grill until cooked through.
Top with a little coriander and squeeze of lemon.
---

Serve with Green Label Semillon
Nicely textured with lime and lemon intensity, some zesty freshness, our Green Label Semillon has a long finish that compliments the scallops and herby butter.