Yummy Beef Pie
Serves 4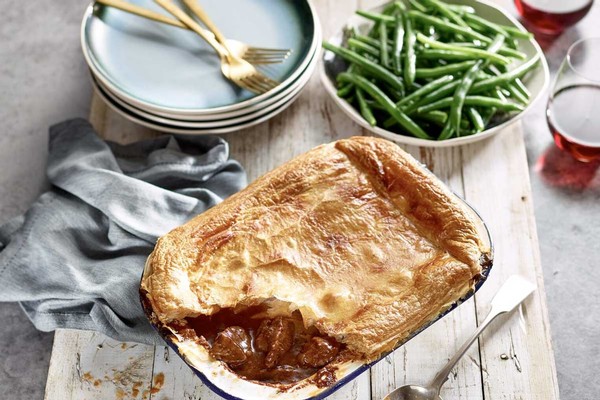 Sometimes there just isn't anything better than sitting down with a glass of red wine and enjoying a rich and hearty beef pie. This family beef pie is the perfect mix of decadence and home style cooking – the perfect meal for a special night in with the family.
Ingredients
700g diced chuck beef
2 tbsp flour
1 teaspoon chopped oregano
1 teaspoon chopped thyme
2 tbsp olive oil
2 brown onions, diced
3 garlic cloves, finely chopped
200ml Red wine
700ml Veal stock
2 tbsp tomato paste
2 tbsp Lea & Perrins Worcestershire Sauce
2 tbsp HP Sauce
1 sheet 30 x 30 puff pastry
1 egg, lightly whisked
Method
Dust beef with flour and oregano, thyme. Heat oil in frying pan and cook beef until golden, then remove. Add onions and garlic to same pan and cook until soft.
Add red wine and reduce until 1 tbsp remains. Add beef and veal stock to pan along with tomato paste and Lea & Perrins Worcestershire and HP Sauces. Cook slowly for 1 hour until tender.
Season to taste then leave to cool, preferably overnight in fridge.
Preheat oven to 190C. Place beef mixture inside a rectangular pan, then place puff pastry over top. Seal edges with a fork then brush surface with egg wash. Place a small hole in pastry to allow steam to release.
Bake in oven for 40 minutes and serve with green beans.
---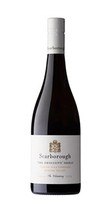 Serve with 'The Obsessive' Shiraz
Blackberry, plum, nutmeg and chocolate flavours on the palate are rounded out by a savoury earthiness. The perfect indulgence alongside the rich beef pie.
BUY 'THE OBSESSIVE' SHIRAZ NOW