Saffron Rice and Eggplant Jam Arancini with Salsa Verde with Scarborough Offshoot Tempranillo Rosé
Makes 20 golf ball size arancini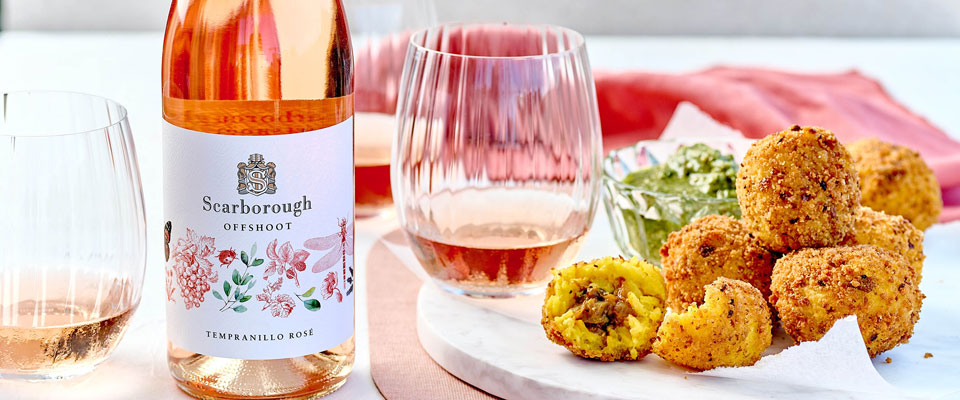 These arancini balls are the perfect party snack and a real crowd pleaser. Make the saffron rice ahead for a handy shortcut and cook just before your guests arrive. They are easy to make and will keep in the fridge for up to three days before being required.
Ingredients
150ml extra virgin olive oil
2 onions, finely diced
4 cloves garlic, finely chopped
250g Arborio rice
Pinch saffron threads
1lt veg stock
1 eggplant, diced into 1cm cubes
100g Medjool dates, chopped
1 tsp smoked paprika
1 cup flat leaf parsley
1 cup basil leaves
1 cup dill fronds
1 cup tarragon leaves
1 cup mint leaves
30g chopped capers
30g chopped gherkins
50g Dijon mustard
30ml red wine vinegar
200g gluten free cornflour
300ml almond milk
200g gluten free breadcrumbs
Method
In a saucepan gently fry half the onions and garlic for five minutes in 50ml of the oil then add the rice and saffron. Stir for a minute to coat. Bring the stock to the boil and add to the risotto a bit at a time. Keep adding until the rice is cooked (about 20 to 25 minutes). Season and spread on to a tray to cool.
Fry the remaining onions and garlic in 50ml oil for five minutes, add the eggplant and cook for a further five minutes. Add the dates, smoked paprika and a little bit of water. Cook until it reaches a jam-like consistency. Season.
In a food processor blitz all the herbs with the remaining oil, capers, gherkins, mustard and vinegar. Season and set aside.
Divide the cooked rice into 20 portions. Flatten each piece in your hand and put a teaspoon of jam in the middle. Enclose the rice and shape into a ball. Leave to firm up in the fridge.
In three trays roll the balls firstly in the cornflour, then the milk then the crumbs. Cool until needed.
Deep fry at 180°c until golden brown, drain on a paper towel and lightly season. Alternatively bake in a 180°c oven for 10 minutes or until brown.
Serve with the salsa verde and a glass of Scarborough Offshoot Tempranillo Rosé.
---

Serve with Offshoot Rosé
Strawberries abound on the nose and in the mouth of our Rosé. Its creamy, more-ish texture and dry, clean finish makes it the ideal partner for the gravlax.