Slow Braised Lamb Shoulder, Green Goddess Sauce and Toasted Almonds with Scarborough Black Label Shiraz
Serves 4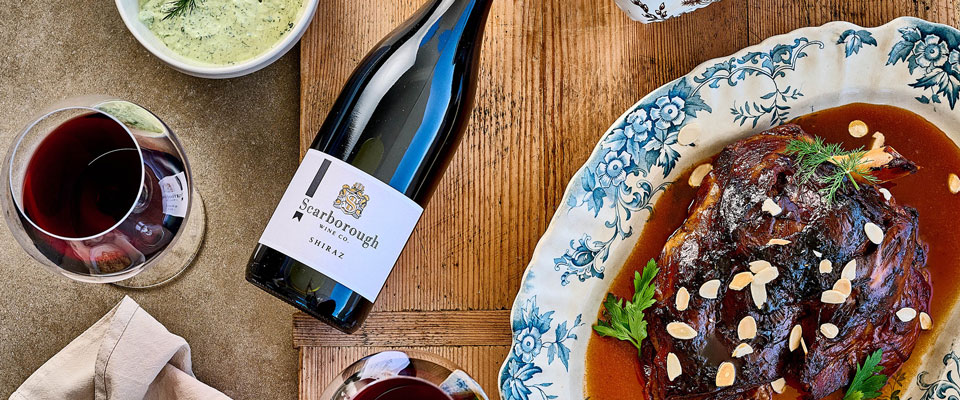 Braised lamb shoulder is a perfect slow-cooked dish that rewards little effort with maximum results. This is a lovely warming dish, best to be made the day before serving to the let the flavours come together and also to remove the fat that solidifies in the fridge overnight - making it a lot cleaner tasting.
Ingredients
1 bone-in lamb shoulder, about 1.4kg
3lt chicken stock
300ml good red wine
1 tablespoon tomato paste
1 split head of garlic
6 sprigs thyme
100g toasted flaked almonds (for garnishing)
Green goddess sauce
1kg Greek natural yoghurt
2 packed cups of mint leaves
1 packed cup of flat leaf parsley
1 packed cup tarragon leaves
50ml extra virgin olive oil
2 lemons, zested and juiced
Salt and pepper
Method
Preheat the oven to 200°c. Season the lamb shoulder and roast in a deep roasting tray for 1 hour until nice and caramelised. Heat the liquids, tomato paste, garlic and thyme. Pour over the lamb and cover with two layers of foil. Cook in the oven for five hours at 160°c. The lamb is ready when the blade bone is easily removed. Leave in the liquid and when cooled sufficiently, put in the fridge overnight.
Strain the yoghurt overnight in a sieve lined with a cloth. Place a 1kg weight on top.
In a food processor, purée the herbs with the olive oil, zest and juice. Gently fold thorough the yoghurt. Season well and serve in a bowl next to the lamb.
To serve the lamb, discard the solidified fat and remove the shoulder from the sauce. Put in the oven and reheat at 160°c for half an hour. Heat the sauce and reduce until a thicker consistency is reached. Strain through a fine sieve, pour a little bit on the lamb and the rest into a gravy boat.
Toast the almonds for four minutes until golden, and sprinkle over the lamb. Enjoy with mash or roast potatoes and a glass of Scarborough Black Label Shiraz.
---
Serve with Black Label Shiraz
A good level of spice backed up with a red berry palate, shows strength and complexity and perfectly compliments this delicious beef dish.