Chargrilled quail, confit Jerusalem artichokes, parsnip and watercress: Serves 4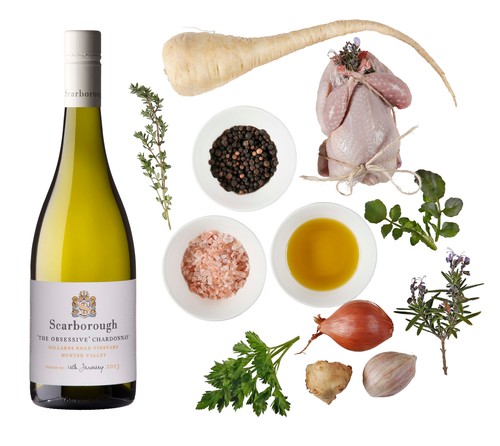 Ingredients:
4 free range quail, deboned and halved
100 gms diced eschallot
1 garlic clove crushed
200gms peeled and diced parsnips
200gms Jerusalem artichokes
150ml chicken stock
200 ml duck fat
1 sprig rosemary
A few sprigs of thyme, finely chopped
1 bunch watercress
Extra virgin olive oil
Butter
Method:
Marinate the quail in the oil and thyme for at least an hour.
Break the artichokes in to chunks, cook with the rosemary in the duck fat very slowly for 4 hours. Remove and place on a tray lined with baking paper.
Gently fry the shallots, garlic and parsnips in the butter until soft, add stock. Purée when creamy and keep warm.
Chargrill the quail on a BBQ. Crisp up the artichokes in the oven, place on top of the purée, dress the watercress. Place on top with the quail.
A nice garnish is to slice some artichokes very finely and deep fry until golden.
Serve with a glass of 'The Obsessive' Chardonnay.
BUY 'THE OBSESSIVE' CHARDONNAY NOW