28 October 2021 | Sally Scarborough
Festive Entertaining with the Scarborough Family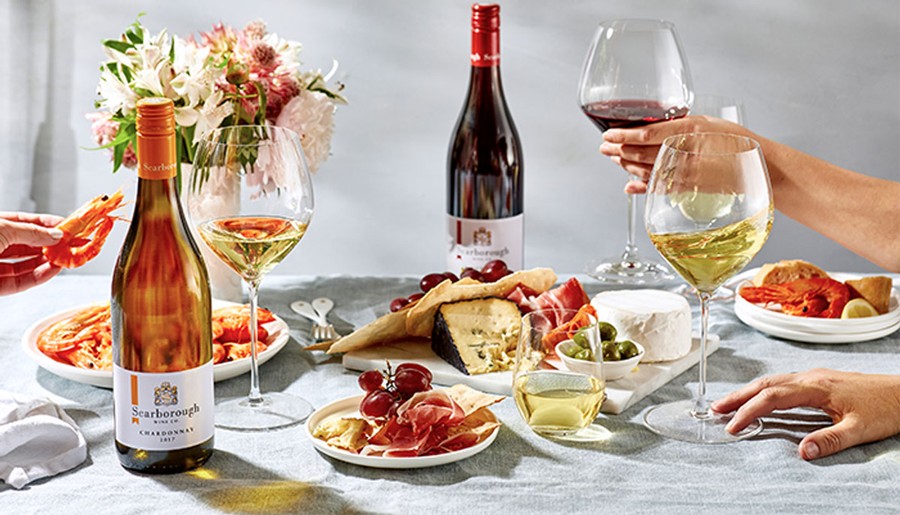 As the festive season rolls around, the days get longer (and warmer) and I often find that I'm looking for quick and easy recipes to pop on the table for impromptu Friday afternoon drinks or even a more casual Saturday or Sunday get-together with friends. We've tried to take some of the hard work out of your festive planning by putting together what you might see on the Scarborough festive table. It's a mix of some of Merralea's most delicious recipes and some true Aussie classics.
We recommend popping it all on the table with some delicious Scarborough wines of course and letting everyone help themselves.

Chicken and Pistachio Terrine We recommend serving this delicious terrine with our Yellow Label Chardonnay. With vanilla oak, peach and citrus notes, the long finish and natural acid line of the Chardonnay cuts through the richness in the terrine.
Your favourite cheeses When it comes to cheeses it really is all about your own personal choice. In the picture above we have a couple of Scarborough family favourite cheeses. Reypenaer, Comté, Chabichon du Pitou and a triple cream with truffles is always a very decadent touch.
Summer Figs If you take advantage of the tiny window when they are in season and not stupidly expensive, figs are a perfect addition to any festive table. With cheese or even just on their own they are just fabulous this time of year. Another delicious way to serve figs is wrapped in prosciutto and then oven baked. It is truly delicious and very decadent.

Gravlax This is a dish that you will always find at a Scarborough family get-together. Merralea Scarborough is an absolute whiz in the kitchen and this is one of her favourite and easiest recipes to prepare ahead of time. We love the gravlax with our Rosé - the creamy, more-ish texture and dry, crisp finish makes for a delicious pairing.
Freshly shucked oysters If you are a fan, freshly shucked oysters are one of the most insanely delicious things. Served with just a little squeeze of lemon they are good, but if you want to step up your oyster game just that little bit more, open a bottle of delicious young Hunter Valley Semillon and pour a capful into your oyster shell...you'll never eat oysters without Semillon ever again.

If you're looking for something a little more fancy to impress your dinner guests, keep reading for our tips to help you match wine to your menu.
Food and wine are two of our absolute favourite things, and the key ingredients to most celebrations. We love them both separately, but when you find a great food and wine match, it can really heighten the enjoyment of both the food and the wine.
The most important thing to remember is, everyone has different palates, and their tolerance to taste will vary. These are our top five tips to help you enjoy your food and wine to their full potential.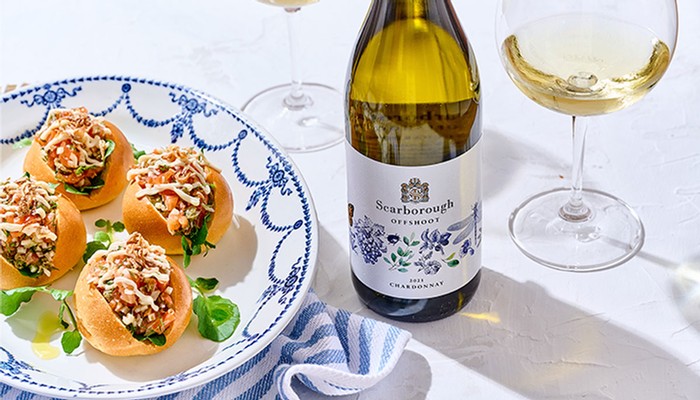 One Balance flavours. Flavours can be balanced by using both contrasting and complementary pairings. Pairing a wine and food that have shared flavours, such as an earthy Pinot Noir matched with a mushroom based dish, will create balance by amplifying those shared flavours. Contrasting pairings work well because balance is created by the different elements, for example a lean, fruit driven style of Chardonnay paired with lightly cured ocean trout tartare or a glass of Champagne with oysters; the delicate bubbles and fresh acidity are a clear but pleasant contrast against the saltiness and velvety texture of the oysters.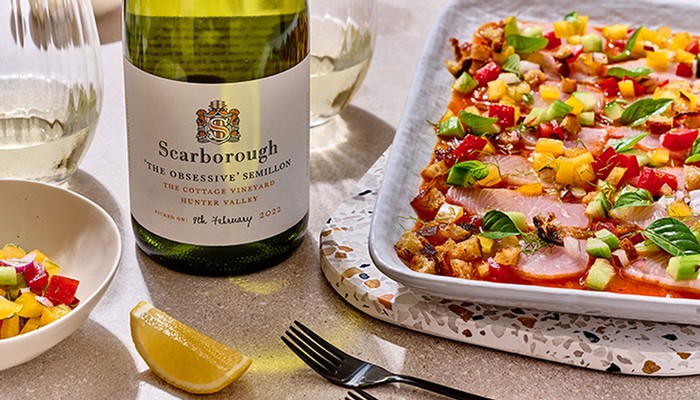 Two Pair acid with acid. Acidity in food is generally a good thing when pairing with wine, as it decreases the perception of acidity in wine, and can bring a very high acid wine into balance. However, if your wine only has low acidity, food with high levels of acidity can make wines seem flat, so it's important to pair high acidity wines with high acidity foods. Pairing a young Hunter Valley Semillon with a dish that has citrus elements like this Raw Kingfish with gazpacho vinigarette would be an ideal match based on the acidity in both. On the other hand an oaked Chardonnay with a balanced level of acidity would enhance the flavours of a rich, low acid dish such as this delicious pâté.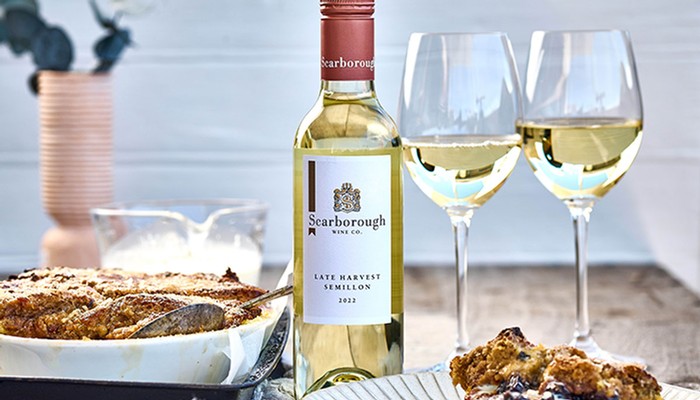 Three Pair sweet wine with sweet food, spicy, salty or fatty food. Sweet wine can be balanced by pairing it with a sweet dish, such as a Late Harvest Semillon and Panettone and Marmalade bread and butter pudding. The sweetness in the bread and butter pudding makes the wine seem less sweet and more acidic and using this delicious Italian Christmas cake makes it just so deliciously decandent. Pairing sweet wines with spicy, salty or fatty food also works because the food decreases the perception of sweetness in the wine. Think Thai food matched with an off-dry wine such as our Off-Dry Semillon.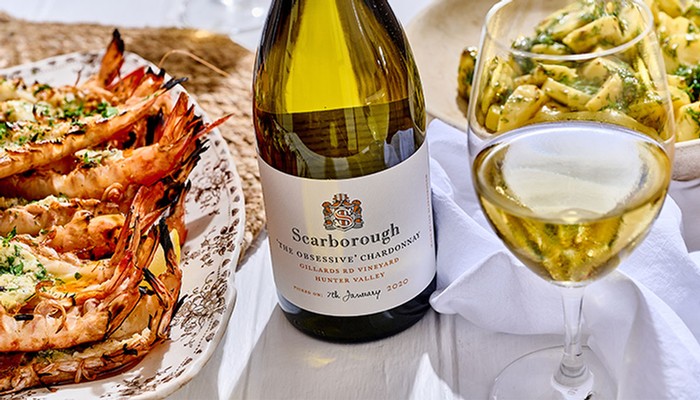 Four Pair weight with weight. Lightweight foods such as chicken or fish are best paired with delicate wines, like a white or light bodied red, so the flavour compounds in the food aren't overwhelmed by high tannins and body in the wine. For example, these BBQ split prawns and fancy potato salad is a favourite of ours served with our Chardonnay. The long finish and natural acid line of the Chardonnay lifts the natural sweeteness of the prawns. If you're serving a rich, heavy dish like this braised Lamb Shoulder with green goddess sauce, the flavours would be too overpowering to be paired with a white wine or light bodied red, so you would select a full bodied red that also has robust and hearty flavours, such as a Shiraz.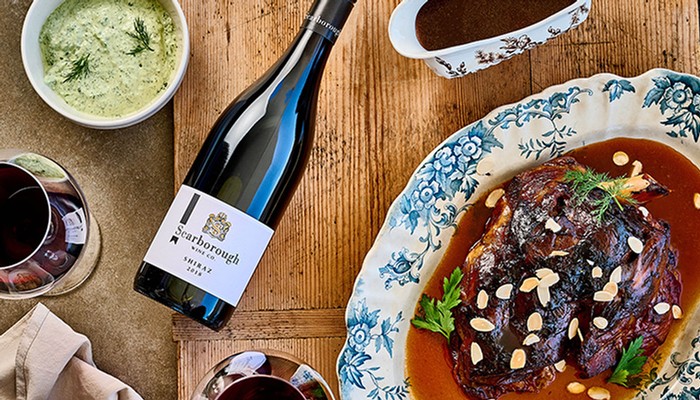 Five Don't be afraid to experiment. Some foods have no ideal pairing, so explore different options. You might find an unorthodox pairing that you love!
Comments
Commenting has been turned off.