14 February 2023 | Liz Riley
Machine Harvesting Grapes: Picking by Moonlight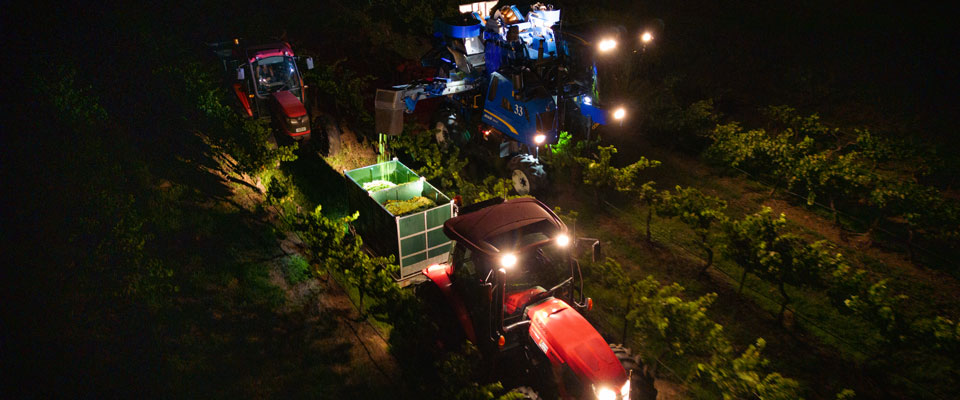 There's often a romance associated with handpicking grapes. Winery social feeds elicit a specific, dreamy snapshot of vintage. Perfectly placed secateurs alongside buckets of freshly picked grapes. This type of picking is common, in fact in some regions like Châteauneuf-du-Pape in France, they mandate it. At Scarborough, we handpick smaller parcels of fruit that we need to keep separate in the winery. But there's another way that's often not as talked about and it's just as sexy.
Technological advantages with mechanical harvesting have come a long way since their first use in Australia in the 1960s. Particularly in regions where there are labour shortages or where the searing summer heat adds additional pressure. The Hunter Valley is notorious for summer days with a sting, so picking grapes at 35-degree temperatures in the heat of the day has an impact on fruit quality. The integrity of the fruit quality can sometimes be compromised, oxidise quickly and need to be cooled prior to processing. Harvesting at night, with the use of modern machinery has many advantages:
🍇 Preserves the quality of the fruit
🍇 Maintains freshness and aromas
🍇 Allows the winery team time to better manage fruit intake
🍇 Is more energy efficient – fruit coming in at lower temperatures means little or no refrigeration is required saving on electricity.
Had we have used a picking crew in particular Scarborough Vineyards this year, it would have taken at least 40 – 60 hand pickers with 4 - 8 'bucket runners' over six hours. Our picking days have been hot, and the freshness and quality would have been in jeopardy, placing even more stress on the winemaking team at a time they are already making major decisions. Instead, we harvested by moonlight, using technology like the Broad Harvesters to gently pick our crop. It took two hours, with a team of four people to complete the same task. It means the team are night owls, but it's the best time to get the job done and the fruit stays cool in the winery before being processed. Get a sense of just how precise this process is in this short video.
History of Machine Harvesters
The first mechanical harvesters for grapes in California date to the early 1950s. The cutter-bar harvester system that is so proficient with grains tended to mangle both vines and grapes alike. Australia started using these machines in the late 1960s, after Mildura Board Member Bob Hollick and Peter May from the CSIRO toured the USA to inspect the harvesters being used. A trial in Mildura followed, and some modifications were required, but the process has gradually improved over the years as technology evolves.
Research into the impact of mechanical harvesting demonstrated that grape quality was unaffected and, in some cases, improved. Growers and researchers began to look for ways to refine and upgrade the machinery and to modify vineyards to be more compatible with mechanisation.
How are the grapes removed?
The grapes are gently removed by shaking the vine or by the use of paddles. Kinetic energy imparted to the grape bunch by the harvester causes the bunches to fly off the vine, caught by the machine as it passes down the row. The grapes are then sent into tractors and transitioned to the winery for cooling before they are processed.
Older harvesters were known to collect much material other than grapes (MOG), but many of the machines now are highly accurate, particularly when the vineyards are well prepared. Some machines can be calibrated to only pick ripe fruit rather than every single grape! Phenomenal right? The harvesters, worth approximately $300-400k, keep improving and we look forward to watching this space, continually adding to our toolkit to enhance the quality of our Scarborough wines.
Interested more about vintage at Scarborough? Here's some other articles that might be of interest:
Comments
Commenting has been turned off.