1 December 2018 | Sally Scarborough
Putting together a fuss-free festive table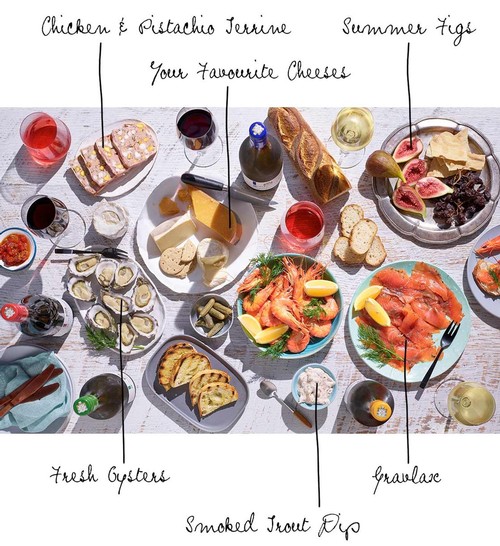 It's always the way, you invite everyone over for a festive get-together and then you find yourself in the kitchen all night preparing food. The best way to ensure everyone enjoys the night (including you) is to plan ahead and make food that doesn't need any preparation (like oysters and prawns) or can be made ahead of time (like a terrine or gravalax).
We've tried to take some of the hard work out of your planning by putting together what you might see on the Scarborough festive table. It's a mix of some of Merralea's most delicious recipes and some true Aussie classics.
We recommend popping it all on the table with some delicious Scarborough wines of course and letting everyone help themsleves. And trust me, there will not be much tidying up to be done if you put on a spread like this - the food will be gone in no time and all you will have left is empty plates.
Your favourite Cheeses: when it comes to cheeses it really is all about your own personal choice. In the picture above we have a couple Scarborough family favourite cheeses. Reypenaer, Comté, Chabichon du Pitou and a triple cream with truffles is always a very decadent touch.
Summer Figs are one item that if you take advantage of the tiny window when they are in season and not stupidly expensive, that's a perfect addition to any festive table. With cheese or even just on their own they are just fabulous this time of year.
CLICK HERE FOR OUR GRAVLAX RECIPE
Freshly shucked oysters: If you are a fan freshly shucked oysters is one of the most insanely delicious things. Served with just a little squeeze of lemon they are good, but if you want to step up your oyster game just that little bit more, un-cap a bottle of delicious young Hunter Valley Semillon and pour a capful into your oyster shell...you'll never eat oysters without Semillon ever again.
And of course the wines that we have featured here are:

Serve our Gravlax with Offshoot Rosé
Strawberries abound on the nose and in the mouth of our Rosé. Its creamy, more-ish texture and dry, clean finish makes it the ideal partner for the gravlax.
---

Serve the Smoked Trout dip with Offshoot Chardonnay
Our Offshoot Chardonnay is a modern expression of Chardonnay with lean, steely notes, peach and subtle oak. It has a long, lemony finish which pairs well with the smoked trout dip.
---

Serve the Terrine with Yellow Label Chardonnay
With a light yellow hue and a luscious texture this Chardonnay is the ideal match for the terrine. With vanilla oak, peach and citrus notes, this has a long finish with a natural acid line that cuts through the richness in this dish.
---
Comments
Commenting has been turned off.