11 October 2017 | Sally Scarborough
Our Home. Your Wine - what does this mean?
When Ian and Merralea first opened the doors to their Scarborough Wine Co. Cellar Door in 1990, they effectively invited visitors into a room in their own home. The furniture was humble and homely, the cellar door team were family members, and the experience was considered and personal.
So fierce was their intention to make people feel warm and welcome that they created the tagline "Our Home . Your Wine" – this description of Scarborough's philosophy has informed every step of their winemaking business journey.
Cellar Door Tasting Experience
It all starts with Scarborough's hospitality expressed through a warm welcome at both of the cellar doors. Visitors are offered a seat at the table, and numerous Tasting experiences complemented by a small taste of cheese to help cleanse the palate. The Scarborough family want every visitor to feel like they're in their home. Then once they step outside, visitors can capture the moment for posterity in our fabulous Instaframe with the Brokenback Ranges smiling in the background.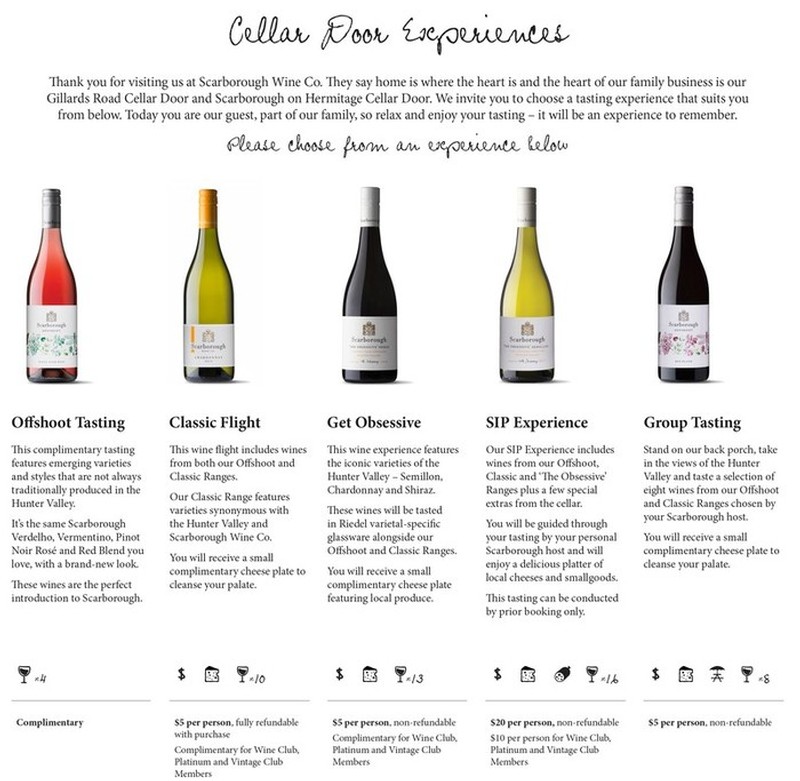 Join one of Scarborough's wine clubs and step into the Scarborough family's inner circle. The choice of wines is wide and varied – choose from Sally or Merralea's Selection, Ian or Jerome's Selection, plus there's a choose your adventure option as well. There's a line-up of wines that's right for every taste and wine lover whim. Take your pick.
When it's time for Scarborough's loyal wine club members to receive their next shipment of wines, instead of sending them out via the courier or the post, the Scarborough family often invites members to pick up their wines at a party hosted on Scarborough's Hunter Valley estate. These parties are like big family reunions, with amazing food and special wines opened for the occasion.
Planning a trip to the Hunter? We want visitors to experience the best of the region, as we know it, so we've compiled a comprehensive guide for visitors, from best accommodation and activities for families to top food choices and fine dining attractions.
When we throw a party, we make it memorable and warm. Have you been to one of our tastings in Sydney's Botanic Gardens? Watch the sun sent over the magical harbour while sipping on a glass of Scarborough's Yellow Label Chardonnay wines with picnic food to match. Scarborough family members are often there to enjoy the moment with the tasters and tell the tales of how the wines came to be.
So unlike many company taglines, Scarborough's Our Home Your Wine philosophy is lived and breathed through our actions. We hope to continue to invite new and old Scarborough wine lovers into our fold, right through into the next 30 years and beyond.
Comments
Commenting has been turned off.