10 April 2019 | Sally Scarborough
Wine and Chocolate matching with the Scarborough team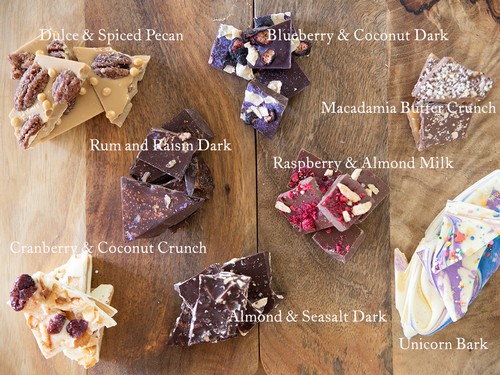 The time for eating excessive amounts of chocolate is just around the corner, and so we thought what better way to celebrate this upcoming time than to spend part of our day this week to investigate that burning question that we all have these holidays – what chocolate best matches with what wine?
Well, this may not be a burning question for you, but we thought it would be fun to try and work it out and I can say that I didn't have any shortage of staff volunteering to help me out with this one…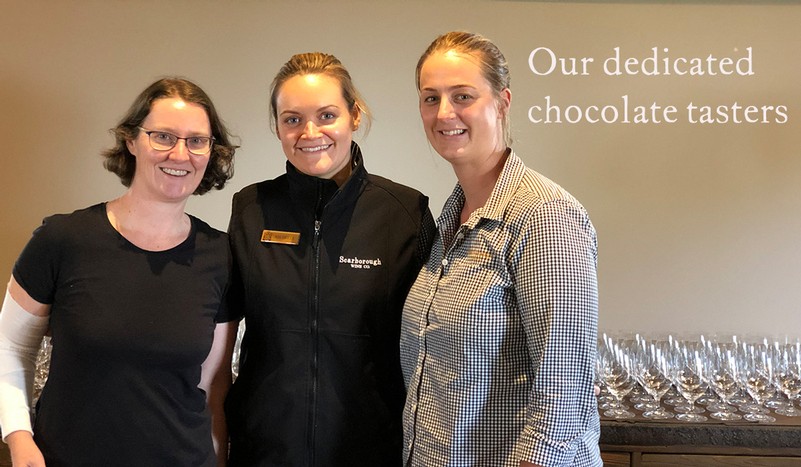 I decided that we would source some delicious local chocolates from Cocoa Nib which happens to be very conveniently located across the road from our Scarborough On Hermitage property.
So, firstly as a disclaimer, might I just say that we think that all chocolate and wine should be eaten and drunk together in whatever way might tickle your fancy, but, if you're wanting to be a little more cerebral about it then let us guide you. We will start from the lightest styles and work our way through to the more complex.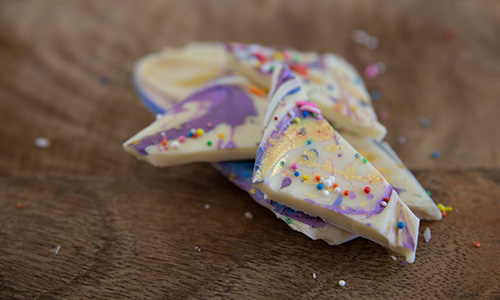 Unicorn Bark: This is a deliciously creamy white chocolate with all the lovely sprinkles and glitter that you might expect of a Unicorn. A delicious match to our Offshoot Pinot Noir Rosé.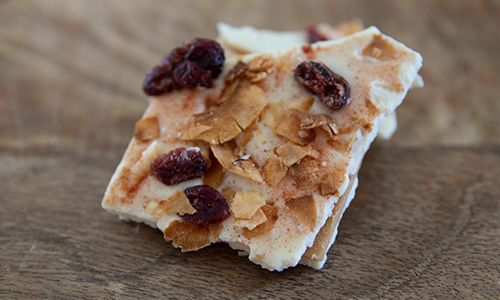 Cranberry & Coconut Crunch: This chocolate was a real surprise to us. It has a delicious butter/toffee praline in between two layers of white chocolate and then topped with some cranberries and toasted coconut. Probably the biggest surprise to us in all the tastings was that this went well with our 2016 Yellow Label Chardonnay.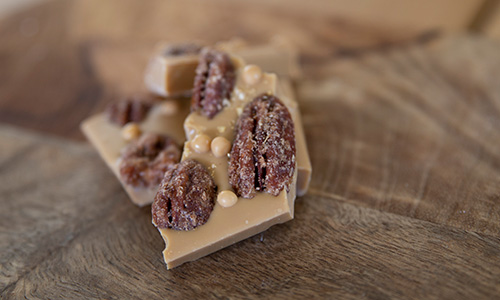 Dulce & Spiced Pecan: If you are going to treat yourself to one particular chocolate this Easter when you are in the Hunter, then we would really reccommend this one. There is a gorgeous spice, pecan and salt balance that was just delicious with our 2014 Museum Release 'The Obsessive' Chardonnay – MIND BLOWN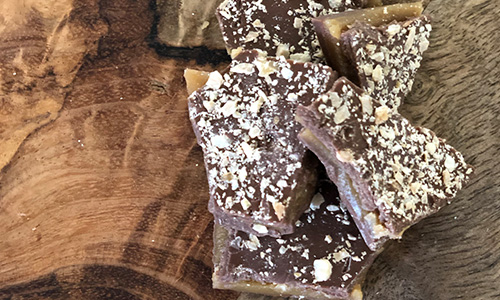 Macadamia Butter Crunch: You can find this chocolate at Cocoa Nib all year round and we must say is a continual staff favourite. It's milk chocolate layers with a toffee praline center with big chunks of toasted macadamias on top was a very surprising, yet delicious match to our 2017 Blue Label Chardonnay.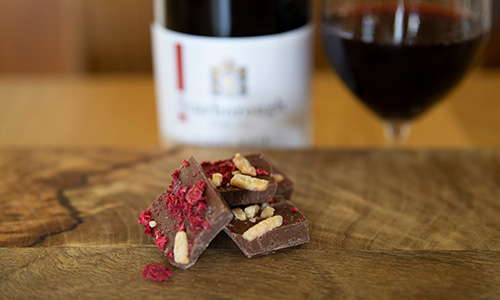 Raspberry & Almond Milk: This match with our Vintage Blend Pinot Noir was a bit of a no-brainer, the sweet little pops of freeze dried raspberries on the top of the chocolate created a really tasty synergy between the red berry fruit flavours of our ever popular Pinot Noir – it really set off the sweeter fruit characters and was frankly really quite moorish.
Blueberry & Coconut Dark: So, surprisingly we thought this went best with our Late Harvest Semillon, the blueberries just give a touch a sweetness which works better with the dessert style wine – sometimes a match really works because of opposing flavours, but this works because of the matching flavours.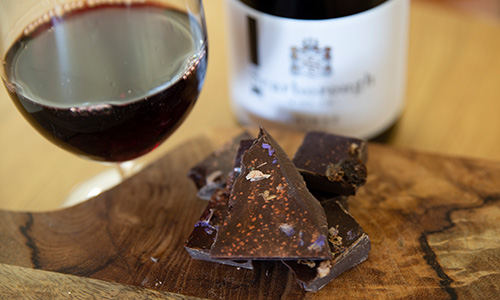 Dark Rum and Raisin: Oh yeah, this is one for the traditionalists and it is so good. The 2014 Black Label Shiraz is lots of lovely stewed red stone fruits and spice - enter rum and raisin. The chocolate really just elevates the flavours of this Shiraz and gives the palate a decidedly lingering length - so good.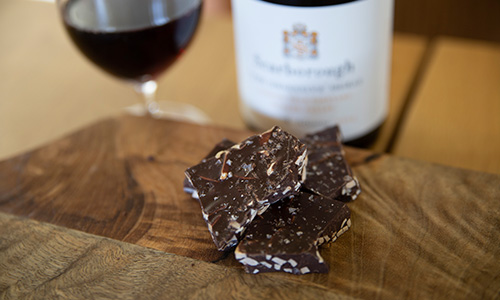 Almond & Seasalt Dark: So, this is a match that we actually include in our cellar door SIP Experience and is just the most wonderful way to finish off the tasting that we do. The nutty oak characters in the 2014 'The Obsessive' Shiraz is the perfect accompaniment to the roasted almonds and the sprinkle of sea salt really takes it to next level. You'll need to come in and try out our SIP Experience yourself and see what you think.
So, all in all, we all decided that there is a such thing as a chocolate and wine matching, but we also think you should just enjoy a glass of wine and some quality Hunter Valley chocolates anytime you want, don't just wait for Easter….
Comments
Commenting has been turned off.