21 February 2021 | Melissa Lomas
Wine Tasting in the Hunter Valley

'At Scarborough Wine Co, it's not just about making wine. It's a way of life.'
This core value resonates not only with our family, but with our extended family as well – our staff. So, it's no surprise that the Scarborough team love wine and wine tasting, and between us we've been to most places in the valley. We've put together our top tips for wine tasting, and narrowed it down to our five favourite wine experiences in the Hunter Valley.

How to get the most out of wine tasting in the Hunter Valley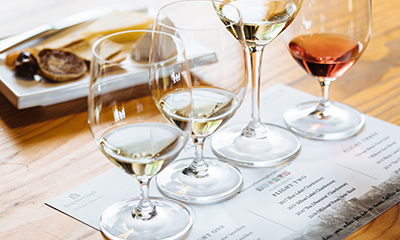 Consider your palate It's a fine balance between trying new varietals and ensuring you try some of your favourite wines. A wine tour is a great opportunity to try something new, but if you only drink white wines and you've planned your day around wineries who specialise in reds, you might end up a little disappointed. Most wineries list their product selections on their website, which leads to our next tip…
Do your research Of course, the internet is a great place to start. Check out Tripadvisor and winery websites, but don't forget that your friends and family are another valuable resource. Ask for their recommendations and tips – even if they haven't been here recently they might know someone who has, or they may have a favourite place from a previous visit. Research Cellar Door tasting options, their available wines and of course, where they're located.
Plan your day Once you've narrowed down your choices, plan your day accordingly. If you're spending a whole or even half day wine touring, we definitely recommend using a tour company, or hiring a bus with a driver. Wine tour companies will generally have a set itinerary, but if you hire a bus with a driver, you're normally free to plan your day as you wish. Just be mindful of the time it can take to get from one winery to the next, and plan your stops so you're travelling in the one direction and not back tracking. You don't want to spend half of your day on the bus!

Book ahead If your chosen Cellar Door has the option to book in advance, we strongly recommend you do so. Especially if there's more than 4 people in your group – the larger the group, the harder it is to get a walk in tasting. Most Cellar Doors will appreciate you booking ahead, as it makes it easier for them to plan the day. Be prepared to pay a tasting fee at most places, especially in the current climate with limited seats available for tasting.
Have fun Be responsible and respectful, but don't forget to have fun. Wine tasting is subjective, and everyone's palate is different. Make the most of your experience and enjoy spending time with your fellow tasting buddies.
Our favourite wine experiences in the Hunter Valley



M&J Becker Wines
With a husband and wife team at the helm and one of the newest Cellar Doors to open in the valley, Meagan & James Becker have a great range of varietals on offer, sourced from Hunter Valley vineyards as well as a vineyard in California. The Manchester Vineyard Chardonnay is just divine, and the wild fermented Prosecco is the perfect party starter. You can choose from a General Tasting ($10), or treat yourself to a Premium Tasting ($25), which is paired with artisan cheeses. Either way, you'll be guided through your selection by a friendly, knowledgeable host – you might even be hosted by Meagan or James, who are often working onsite.
www.beckerwines.com.au 2144 Broke Road (Roche Estate), Pokolbin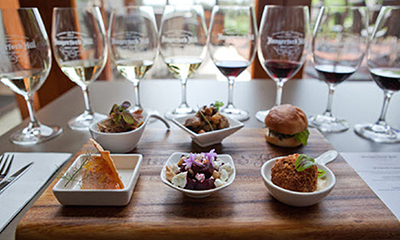 Hungerford Hill
If you've ever visited Pokolbin, there's no doubt you would have driven past iconic Hungerford Hill on your travels. Located on the corner of Broke Road and Wine Country Drive, it's a grand welcoming to Wine Country that you can't miss. In addition to the Hungerford Hill Cellar Door, the building is also home to Muse Dining; a Hunter Valley icon in itself. The two have joined forces to bring you the best of both worlds, creating the 'Epic Experience' ($60). You'll be guided through a mini degustation of Hungerford Hill wines, matched to canapés created by the two-hatted Muse Restaurant. A must do experience for wine lovers and foodies alike.
www.hungerfordhill.com.au 2450 Broke Road, Pokolbin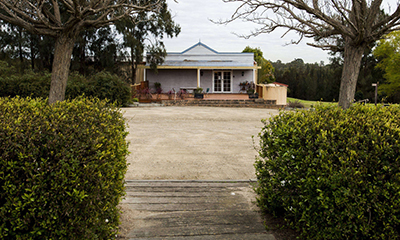 Hart & Hunter
A boutique, family owned wine company, with a focus on sourcing the best parcels of fruit from the best vineyard sites. Winemaking couple Damien Stevens and Jodie Belleville are the hands behind Hart & Hunter, and their brand showcases classic Hunter styles such as Semillon, Chardonnay and Shiraz. 2020 releases have included a Grüner Veltliner, Riesling and Rosé, which are all on tasting at their Deasys Road Cellar Door. The deck offers gorgeous views, especially when the afternoon sky is changing colour. Tastings are $10 per person, which is redeemable on a purchase of 6 bottles or more.
www.hartandhunter.com.au 463 Deasys Road, Pokolbin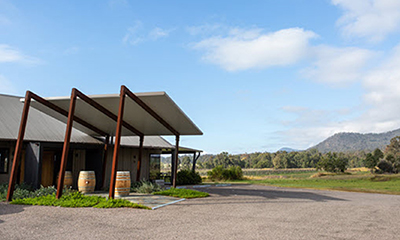 Glandore Estate Wines
Situated at the base of the Brokenback Range on Broke Road, every seat in this gorgeous new tasting room boasts sweeping views of the surrounding vineyards and beautiful Brokenback Mountain range. Offering Hunter favourites like Chardonnay and Shiraz, as well as Sangiovese, Nebbiolo and Tempranillo. The Chocolate and Wine Pairing experience ($30) is an absolute treat, matching 6 wines to a handmade Adora chocolate truffle and creating a delicious balance on your palate.

www.glandorewines.com 1595 Broke Road, Pokolbin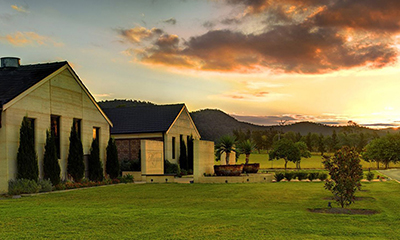 Margan
Venture a little further afield and make your way to Broke, a tranquil township about 20 minutes from the heart of Pokolbin. Here you'll find Margan: a family owned winery, Cellar Door and restaurant. For the food and wine lover, 'The Ultimate Margan Experience' ($140) is a truly unique way to enjoy all that Margan has to offer. You'll enjoy a vineyard, garden and winery tour, including wine samples direct from the tank and barrel, and then settle in for a five course degustation lunch in their award-winning restaurant. Fun fact - Margan are committed to environmental sustainability, are certified with Sustainable Winegrowing Australia, and are working towards becoming carbon neutral.
www.margan.com.au 1238 Milbrodale Road, Broke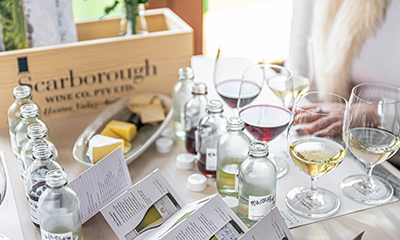 Of course, we would love to see you here at Scarborough Wine Co on your next visit to the Hunter Valley. Our tasting options were reimagined when we reopened our Gillards Road Cellar Door in mid 2020, and visitors can enjoy either a 30 minute curated tasting, or a unique 1 hour tasting of five wines presented in individual 100ml bottles. You can select and book your tasting online, and we highly recommend booking ahead to avoid disappointment.

Comments
Commenting has been turned off.