6 August 2017 | Sally Scarborough
Sally Scarborough's Innovating Ways
Innovation is one of the keystones of Scarborough's winemaking success. From Ian and Merralea's early beginnings with their mobile filtration business, right up to the current tasting experience in both of the cellar doors, the Scarborough family has always embraced the idea of the "new", constantly looking at ways to do things differently, merging old traditions with modern approaches.
Scarborough's National Sales & Marketing Manager Sally Scarborough has been leading the innovation charge inside the Scarborough business. Sally surrounds herself with all things Chardonnay, and with her hospitality background, her focus is finely tuned on improving the experience of the Scarborough customer.
Instaframe
Visitors to Scarborough's Gillards Road cellar door might recall seeing a large frame attracting people to jump inside and pose for a pic. It's the Scarborough Instaframe and it's formed the border of many a wine tourist's photo after experiencing the flight of wines and cheese platter at our cellar door. Jump onto Scarborough's Instagram account to discover the hundreds of photos that feature Scarborough's beautiful Hunter Valley property with the Brokenback Range looming in the background – all viewed through our fun Instaframe. Sally installed this feature on the property in 2015 and since then it's taken the cellar door experience to an even higher level of interaction for visitors.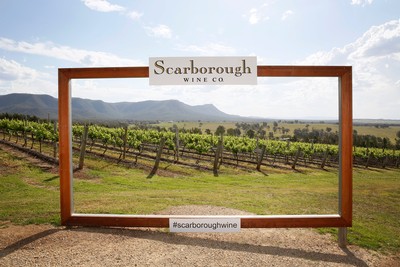 Pick-up parties
Membership of Scarborough's Wine Club is a popular way to stay connected to new releases and all the latest news and events on the Scarborough calendar. But since 2016, Sally felt that sending out wine club shipments via the post could be taken to the next level by inviting wine club members to the winery to pick up their own shipment. But it wouldn't just be a drop-in and dash-out event – Sally wanted to celebrate the arrival of Scarborough's loyal fans to the winery by putting on a Pick-Up Party, where members collected their wine club pack, as well as enjoy delicious local produce cooked in our unique steaming barrels, entertainment, wine club exclusive wines and of course you get to mingle with our winemakers and staff. These Pick-Up Parties have become regular (legendary!) events on the annual Scarborough calendar. Join one of our wine clubs now to take part in the next party.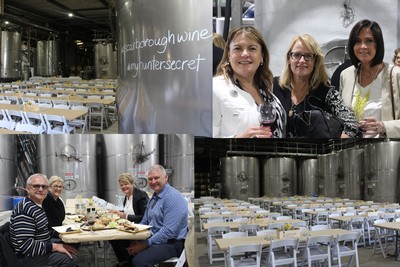 Royal Botanic Garden Tastings
Not every Scarborough wine drinker can make it to the Hunter Valley, so Sally decided to take Scarborough to Sydney with its regular Royal Botanic Garden tasting events. Lovers of Scarborough have the opportunity to bask in the late afternoon light while enjoying the superb harbour views with a Scarborough wine in hand. Drop into Scarborough's Events pages to hear about the next Sydney Harbour tasting. But for now, as part of Scarborough's 30th birthday celebrations, fans have the chance to win their own private party at Sydney's Royal Botanic Garden for 30 people, sipping on Scarborough's wines and munching a Pokolbin Picnic Co hamper. Discover more about the promotion here.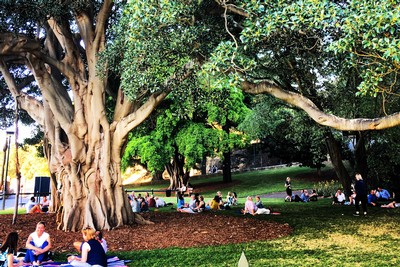 Instameet
In October 2015, as Instagram's growth was enjoying its most exponential rise (more than five million Australian users in 2015), Sally saw the potential in engaging with Instagram influencers/bloggers in the lifestyle category by inviting them to participate in Australia's very first Winery InstaMeet. The event attracted more than 60 influencers at Scarborough Wine Co. in the Hunter Valley. A growing phenomenon across Australia, and indeed the world, an InstaMeet sees a group of Instagrammers join forces at a pre-organised location to take photos and videos to post on their social media accounts. Sally thoroughly enjoyed connecting with a distinct group of enthusiasts and sharing Scarborough's Hunter secrets with them all.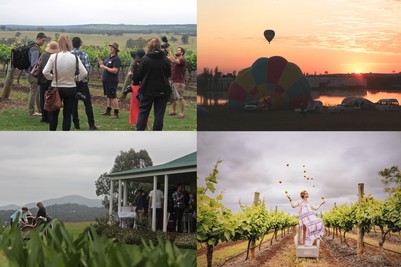 Scarborough's Offshoot Range
Scarborough's Yellow label Chardonnay can certainly lay claim to being one of Australia's most loved wines. There's something about pouring a glass of this rich, bold drop that warms the cockles of Australian drinkers' hearts. But Sally knows that change and invention is the key to every business's survival.
So with the help of her brother Jerome and parents Ian and Merralea, Sally can introduce you to Scarborough's new range of wines, featuring unique varieties, planted, grown and crafted in the Hunter. This new range is called Offshoot and the varieties include Vermentino, Verdelho and Pinot Noir Rosé. The Offshoot range has allowed Sally's brother, winemaker Jerome, to experiment with unique varieties. The wines are all wrapped up in a whimsical new label worked on by Sally – these labels represent the beautiful creatures that work together in Scarborough's vineyards to protect the grapes and the fragile ecosystem of the vineyards.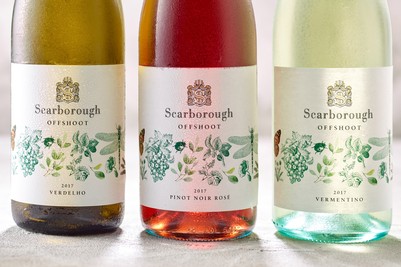 Learn more about these deliciously refreshing and fun wines here.
Comments
Commenting has been turned off.