23 May 2013 | Sally Scarborough
Perfect Match: Roast Chicken with Scarborough Yellow Label Chardonnay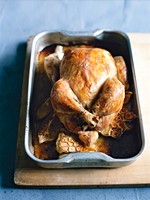 There really is no greater match for the humble (yet delicious) Roast Chicken than a glass of Chardonnay. Perhaps the reason we love Roast Chicken so much is so we can have it regularly with our Yellow Label Chardonnay.

When it comes to Roast Chicken there are so many ways to prepare your chook so it is moist and tender. Personally I love to slow roast my chicken, it means that I can pop it on early in the afternoon and then go about my business and it just always means that you have a lovely juicy roast chicken at dinner time. But hey, anyway it comes to me I'm happy – just as long as I can have a glass of Chardonnay with it.

The reason that Roast Chicken and Chardonnay are a match made in heaven is their complimentary flavours – the elegant simplicity of a roast chicken with herbs and garlic (my favourite) is a perfect foil for the more complex and rich flavours of our Yellow Label Chardonnay.
The only thing I do recommend when choosing your roast chicken as that you buy a free range and preferably organic chicken. We are really lucky here in the Hunter Valley to have the Nulkaba Hatchery where I get our poultry from – looking for a sustainably produced chicken does make a huge difference to the flavour of the chicken, so I really recommend you pay a few extra dollars and buy that Free Range chicken.
Here is my all-time favourite recipe for a Slow Roasted Chicken with Thyme and Garlic originally a Donna Hay recipe.
Whatever seasonal vegies you can find are a great side dish for this roast and in Summer we enjoy it with a salad.
Comments
amya
@ 26/10/2018 at 10:06 AM
dsfdsgfdg
jy234
@ 20/03/2019 at 7:20 PM
Great Article!Thanks for sharing with us.
SA KFC Survey
@ 18/12/2022 at 6:16 PM
The KFC restaurant has been in South Africa for over 20 years, and the menu is extensive. It includes roast chicken and beef options, burgers, salads, and desserts. However, most of the time, people only think about KFC as a place to get fried chicken. Participate in the SA KFC customer feedback survey and get KFC Coupons valid for one month.
Commenting has been turned off.