20 March 2013 | Sally Scarborough
Merralea's favourite Seasonal Recipes - Autumn
Braised chicken with peas and red wine
Serves 4
8 chicken thighs ( bones in and skin on)
Sea salt and freshly ground pepper
3 tbsp extra virgin olive oil
1 red onion sliced
4 cloves of garlic crushed
1 tbsp grated fresh ginger
2 sprigs rosemary
6 sprigs thyme
2 dried red chillies(seeds removed) crushed
2 carrots chopped 1cm slices
250mls Scarborough shiraz or pinot
400gm chopped canned tomatoes
150ml chicken stock
3 cups frozen peas
Preheat oven to 160.

Season chicken with sea salt

Heat oil in large heavy- based ovenproof pan with tight fitting lid. Brown chicken well on all sides, remove from pan and set aside.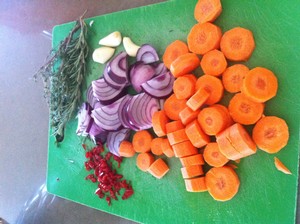 Add the onion, garlic, ginger, rosemary, thyme, chilli and carrot to the pan and sauté over a medium heat for 2 – 3 minutes. Add the wine and simmer until wine is reduced by half.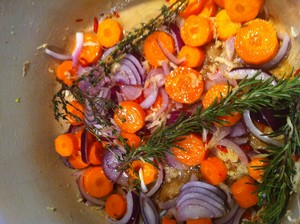 Add the tomatoes including their juice, stock and the chicken. Season to taste and bring to the boil.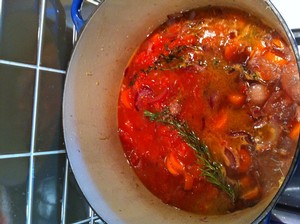 Cover with the lid and bake in the oven for 25mins or until just cooked.
Transfer the pan uncovered to the stovetop and bring the sauce to a gentle simmer.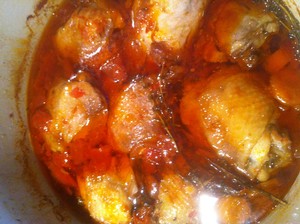 Add the peas and cook for a further 5mins.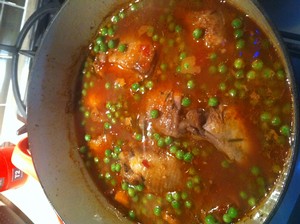 Check the seasoning and adjust if necessary.
Spoon 2 chicken thighs per person into a pasta bowls, spoon over some sauce and vegetables. Grind some pepper over the top.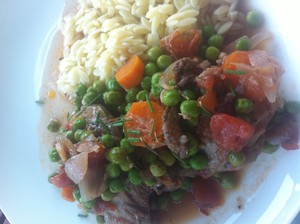 Serve with soft polenta or risoni pasta.

Comments
Barbara D. Kaiser
@ 05/01/2016 at 8:35 PM
Thanks Sally for sharing this awesome recipe here. It is so lovely and I like to try this recipe as the ingredients are my favorite and I love to find the new recipes to try and it it tastes good I can add it to my weekly cooing plan.
best essay writing service
@ 11/01/2018 at 9:12 PM
I really appreciate this post. I've been trying everywhere for this! impart goodness I found it on this diary . i actually admire your work and that i hope in future i'll come back for additional data. like this one.You have created my day! Thanks again!