8 November 2013 | Sally Scarborough
Hunter Valley Chardonnay - Our Story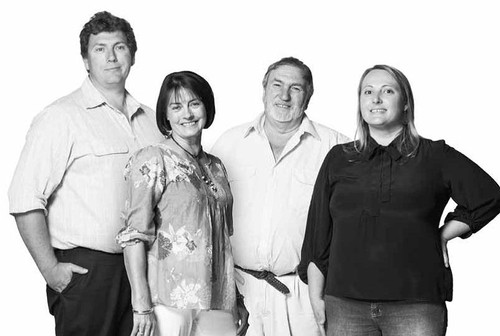 There was never any doubt that Chardonnay was going to be the variety we hung our reputation on, a grape that Scarbie loved to play with. Scarbie's fascination with Chardonnay is due to the fact that it's possible to make so many styles from the same variety.
The Yellow label was a winner from the start, aged for three years and then released, it's a wine with lots of obvious, big flavours that was launched when oaky chardonnays were all the rage.
The most compelling part of marketing this wine from the start was the success of the distinctive Yellow capsule. When we used to dine in Sydney restaurants who poured our wine, we could see who was buying yellow label.
Strangely enough it was during the mid 90s when big, oaky styles were out of vogue we were surprised to find demand for the wine went up, we never saw a decrease and it's been increasingly popular ever since.
While the Yellow label garnered a cult following, there was a demand for other styles and as the years progressed we saw the potential of making another style that could potentially be sold as an export label.
The Blue Label was born. This wine was a deliberate point of difference from the Yellow and was a more delicate style that was all about the fruit rather than the oak treatment. This wine catered well for the en-premise market and allowed us to build our reputation further with Chardonnay.
Finally with the arrival of the White Label, our trio was complete. This wine was created to typify the unique soil DNA of Gillards Road, to make a wine in the Burgundian tradition that also paid respect to Hunter terroir especially our Gillards Road vineyard with its limestone derived red soils that are free-draining and fertile. This was a wine Scarbie wanted to make, in fact all of us in the Scarborough family have a natural affinity with the grape and wanted to see this project realised as it used some of the best fruit in the vineyard and some of the most expensive oak in the winery.
Ask any of us what is it that makes the Yellow Label so special and it's simple " It's full flavoured and easy to drink, but the best sentiment come's from Scarbie himself: It's aged and ready to drink, it has flavour, it is a wine for drinking not getting all cerebral about."
Comments
Commenting has been turned off.