1 September 2015 | Sally Scarborough
Home Grown Recipes: Vermentino with braised & chargrilled octopus with tomatoes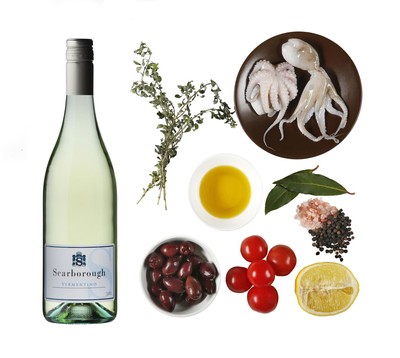 Ingredients:
1 x 500g octopus, cleaned* or prepared octopus from fishmonger
200ml dry white wine
1 lemon slice, plus extra lemon wedges, to serve
2 bay leaves
2 tsp dried Greek or standard dried oregano
1 tbsp extra virgin olive oil, plus extra, to serve
kalamata olives, to serve
Handful of cherry tomatoes
Method:
Place octopus in a saucepan with wine, lemon slice, bay leaves, 300ml water, ½ teaspoon of salt and half the oregano. Bring to boil, then reduce heat to low. The octopus should sit below the surface of water; weigh down with a plate to submerge, if necessary. Cook octopus for 40 minutes or until tender. Remove from heat and cool in cooking liquid.
Drain octopus and cut into large chunks, mix with cherry tomatoes and lightly brush with oil. Heat a barbecue or chargrill pan to hot and grill octopus and tomatoes, turning, for 4 minutes or until lightly charred. Drizzle over some extra virgin olive oil, top with remaining oregano, and serve with lemon wedges and olives. Serve with a glass of Vermentino.
*To prepare octopus, make a slit lengthwise through head of octopus and remove the ink sac, being careful not to break it as it can stain flesh, then rinse octopus. Remove eyes by making a couple of slits around them. Using your fingers, remove the hard 'beak' by pushing it through the centre of the tentacles. You can always ask your fishmonger to carry out this messy task this for you!
Comments
Commenting has been turned off.