15 December 2014 | Sally Scarborough
Home Grown Recipes: Honey-Baked Goat's Cheese & Walnut, Pear & Baby Spinach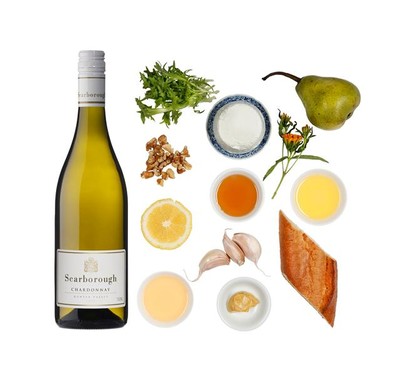 Merralea is the Scarborough matriarch – chief cook, gardener, cellar door manager and general multi-tasker of the family. Her dinner parties are renowned in the Hunter, and one of the dishes she often brings out is this goat's cheese number, with her Boozy Rouge, a group of local wine ladies who have been getting together for a dinner party once a month for 44 years. They approve of this dish and so will you.
Ingredients
2 tbsp walnut oil, plus extra for brushing
2 goat's cheeses blocks (about 125g each)
100g honey
30g walnut halves, roasted and coarsely chopped
Juice of ½ lemon
½ garlic clove, finely chopped
10ml tarragon vinegar
1 tsp Dijon mustard
1 pear, halved lengthways
1 cup (loosely packed) baby spinach leaves
toasted crusty bread, to serve
Method
Preheat a grill to high. Lightly brush two 375ml oven dishes with walnut oil and place one goat's cheese in each. Drizzle half the honey over each, scatter with half the walnuts, season to taste and grill for 8-10 minutes, until bubbling and golden.
Meanwhile, combine lemon juice, garlic, vinegar and mustard in a bowl. Whisking continuously, add 2 tbsp walnut oil in a thin steady stream until blended, then season to taste. Thinly shave pear, add to dressing with spinach leaves, toss lightly to combine. Serve immediately with honey-baked goat's cheese, toasted bread and a glass of White Label Chardonnay.
Comments
Commenting has been turned off.