20 October 2014 | Sally Scarborough
Home Grown Recipes: Clams with Chorizo & Verdelho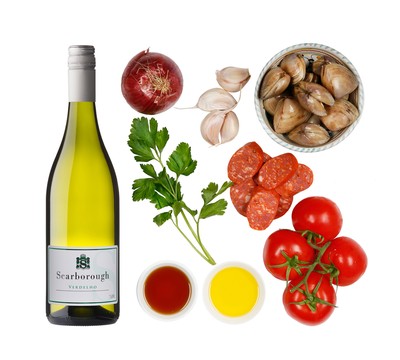 We're big fans of Australian Gourmet Traveller – one of this country's finest magazines that's constantly showcasing our amazing fresh produce and food talents. This recipe, inspired by a Gourmet Traveller creation, is a favourite in the Scarborough kitchen, especially when teamed with our Verdelho.
Ingredients:
2 tbsp olive oil
1 Spanish onion, finely chopped
2 garlic cloves, finely chopped
2 dried chorizo, finely chopped
2 vine-ripened tomatoes, finely chopped
2 tbsp sherry vinegar
1.2 kg clams, soaked in cold water for 15 minutes
300ml Verdelho
¼ cup (loosely packed) flat-leaf parsley, coarsely chopped
crusty bread, to serve
Method:
Heat oil in a large casserole pan over medium-high heat, add onion and garlic and sauté for 5-7 minutes, until soft and starting to colour. Add chorizo, stir occasionally for 3-5 minutes, until coloured, then add tomato and cook for 3-5 minutes, until slightly thickened. Add vinegar and stir to combine. Drain clams, rinse well, add to casserole pan with Verdelho. Cover and cook, for 3-5 minutes, shaking pan occasionally until all clams open. Stir through parsley, season to taste and serve hot with crusty bread and a glass of Verdelho.
Comments
Commenting has been turned off.