11 December 2014 | Sally Scarborough
Home Grown Recipes: Balmain Bug Linguini with Lemon Garlic Butter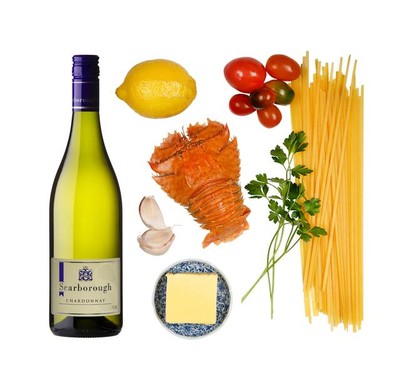 Scarborough's winemaker Jerome and his wife Liz are keen pasta makers, so when we get our hands on freshly caught Balmain Bugs, they churn out a batch of their own homemade pasta for this recipe. And Because Scarbie patriarch Ian is so damn hard to buy presents for, his birthday present often consists of homemade pasta with Balmain Bugs. Not a bad present, right?
Ingredients
80g butter, softened
1 garlic clove, finely chopped
1 teaspoon lemon zest
⅓ cup finely chopped flat-leaf parsley leaves
100g spaghetti
Handful of cherry tomtoes
6 Balmain Bugs, cleaned and butterflied
Method
Place butter, garlic, lemon zest and parsley in a bowl and mix well to combine. Set aside.
Place pasta in a large saucepan of salted, boiling water and cook for 10−12 minutes, until al dente. Drain, return to saucepan with half of butter mixture and tomotes to keep warm.
Place bugs on a baking tray, top with remaining butter mixture and cook under a preheated hot grill for 2-3 minutes, until cooked through. Divide pasta between plates and top with bugsi. Serve with a glass of Blue Label Chardonnay.
Comments
Commenting has been turned off.