31 July 2015 | Sally Scarborough
Duck Confit Recipe (for our Duck, orange and beetroot salad).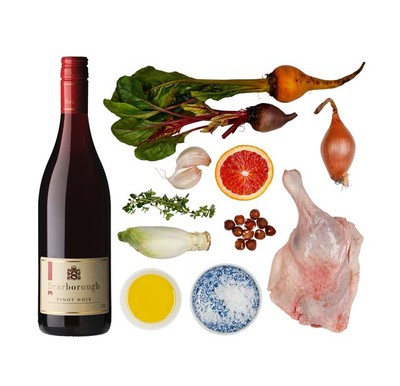 Duck Confit: Serves 4
This recipe is taken from a Gourmet Traveller recipe and is delicious if also time consuming. You can also make a short ut with this and purchase your duck already confit from any good deli or hrocer.
Ingredients:
4 duck Marylands (250-300gm each)
120gm fine salt, preferably Himalayan pink salt
2 tbsp orange juice
1 tsp finely grated orange rind
1 tbsp juniper berries
5 fresh thyme sprigs
2 garlic cloves
2 fresh or dried bay leaves
800gm duck or goose fat, melted
Method:
Place the duck legs in a non-reactive dish to fit in a single layer. Combine salt, orange juice and rind, juniper berries and thyme in a bowl, then toss with the duck until evenly coated. Cover with plastic wrap and refrigerate to cure (at least 12 hours or for best results 24 hours).
Preheat oven to 100C. Wipe the salt from the duck, rinse duck and pat dry with paper towels. Place duck legs in a single layer in a casserole dish along with garlic and bay leaves, then pour in the fat until duck legs are completely submerged. Cook duck in oven until very tender and just beginning to fall off the bone (3¼ - 3 ¾ hours), then leave in fat and cool completely to room temperature. (Duck confit can be done ahead and will keep refrigerated if completely submerged in fat for a month.)
Preheat oven to 220C. Remove duck, garlic and herbs from fat, scrape excess fat from duck, being careful not to break the skin. Place in a large ovenproof frying pan along with garlic and herbs, and roast until golden and crisp (20-25 minutes). Serve with your choice of side dish.
Comments
Commenting has been turned off.