5 June 2014 | Sally Scarborough
Winter Warmers - Chicken Fricassee
So Winter is finally here and it is time to start pulling out all those slow cooked recipes. Last night I decided that a Chicken casserole was in order. Over the coming months I'll share with you some of my favourite slow cooked dishes and wine matches.
One of my favourite chicken dishes which is pretty simple and easy to make is Chicken Fricassee. I've tried a few recipes over the years and they don't tend to change too much as it is generally a French stew with a white sauce and most commonly made with chicken.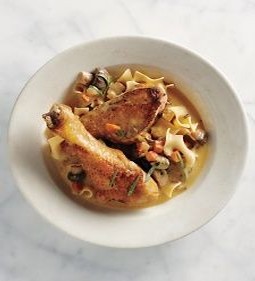 The simplicity of the flavours in this dish I think makes it a winner, you brown chicken, then sauté off your mirepoix (diced carrot, onion and celery) add mushrooms, white wine and stock as well as a touch of flour to thicken.
The most complex part of this dish is making the liaison which is the sauce thickener made from egg yolks, cream and adding some of the broth from the chicken to help temper it.
The dish is then really given a gorgeous lift at the end with the addition of lemon juice and tarragon – these elements to me bring the dish to life.
Below is a delicious and really helpful step by step visual instruction to making a foolproof fricassee from Martha Stewart. I had this done and ready to go last night with some pasta in an hour and a half. Enjoy!
Comments
Commenting has been turned off.