2 December 2014 | Sally Scarborough
Home Grown Recipes: Fantastic Fish Pie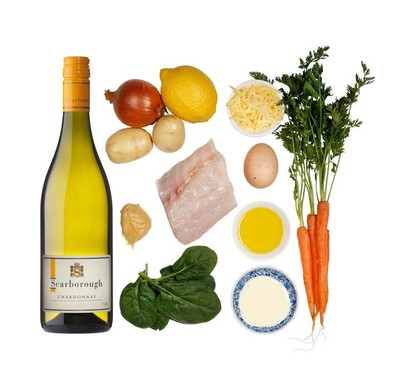 We love what Jamie Oliver has done with his fame – encouraging kids to embrace cooking and to grow their own food elevates him above his mere 'celebrity chef' status. This fish pie recipe is inspired by one of Jamie's creations. It's become a family tradition – after a long, busy day in the cellar door, we end Easter Sunday by enjoying this warming delicious pie.
5 large potatoes, peeled and diced
2 eggs
2 handfuls fresh spinach
1 onion, finely chopped
1 carrot, halved and finely chopped
Extra virgin olive oil
1¼ cups thick cream
1 handful of grated parmesan
1 handful of grated cheddar cheese
juice of 1 lemon
1 heaped tsp English or French mustard
250g haddock, cod, or other white fish, skinned, boned and sliced into strips
250g smoked cod
Preheat oven to 220 degrees. Place potatoes in a pan of salted, boiling water. Return to boil for 10 minutes. At same time, hard-boil eggs. Steam spinach in a colander over pan with potatoes for 1 minute. When spinach is done, remove from colander and squeeze out excess water. Remove eggs from pan. Cool under cold water, peel and quarter. Drain potatoes in colander.
In a separate pan, gently fry onion and carrot in olive oil for 8-10 minutes. Add cream and bring to a gentle boil. Remove from heat and add cheese, lemon juice and mustard.
Place spinach, fish and eggs in a casserole dish with a lid and combine. Pour vegetable sauce over fish mixture. Mash cooked potato, adding a bit of olive oil, and season to taste.
Spread potato over top of fish mixture and cook in oven for 25-30 minutes. Serve with a glass of Yellow label Chardonnay.
Comments
Commenting has been turned off.