28 December 2014 | Sally Scarborough
Home Grown Recipes: Duck, Orange & Beetroot Salad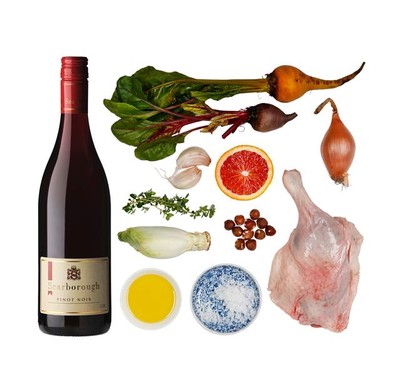 The Scarborough family is obsessed with duck confit – we'll often have it ready for all kinds of dishes as once the duck confit has been made, you can throw the meat into all kinds of salads, sandwiches or simply on a lightly toasted piece of baguette. This colourful salad is inspired by a Gourmet Traveller recipe, teaming one of duck's perennial partners, orange, with this rich game meat and, of course, its vinous partner, Pinot Noir.
1 blood orange, segmented
2 golden shallots, thinly sliced
1 endive, leaves separated
35g (¼ cup) roasted hazelnuts, coarsely chopped
4 marylands of Duck Confit – click here for a recipe
Roast Beetroot
4 each baby beetroot and baby golden beetroot
1 tsp olive oil
Orange Vinaigrette
300ml orange juice
60ml (¼ cup) extra virgin olive oil
Pinch of caster sugar
For Roast Beetroot,preheat oven to 200C. Place beetroot in a roasting pan, add 60ml water, drizzle with oil, season to taste and roast until tender, for 30 minutes. Set aside to cool slightly, then peel and halve beetroot and set aside.
Meanwhile, for Orange Vinaigrette, simmer orange juice in a saucepan over medium-high heat until reduced to 60ml, for 12-14 minutes. Set aside to cool slightly, then whisk in oil and season to taste with sugar and salt.
Heat an ovenproof frying pan over high heat, place a piece of baking paper in pan, add duck skin-side down and cook until golden, for 2-3 minutes. Turn, then transfer to oven and cook until warmed through, for 5-7 minutes. Coarsely shred meat (discard bone), combine with remaining ingredients and beetroot in a large bowl, drizzle over vinaigrette, toss to combine and serve with a glass of Scarborough Pinot Noir.
Comments
Commenting has been turned off.