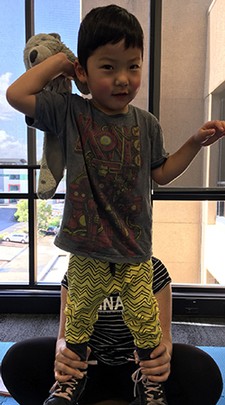 Tallow Trivia Tickets
On August 10th Tallow is booked to have surgery in the U.S. The surgery is called 'Selective Percutaneous Myofascial Lengthening' or 'SPML' for short. Tallow's parents are so excited to have found SPML as they have seen remarkable results in other kids and adults with Cerebral Palsy. The family are comforted by the fact that it is a minimally invasive keyhole procedure and is a short stay surgery. There is minimal scarring and quick recovery.
All funds raised from Tallow's Trivia night will go towards helping to fund the overseas trip to have this surgery.
When: Saturday 29 July 2017 6pm - 9pm
Where: 465 The Avenue www.465theavenue.com.au
465 Victoria Ave, Chatswood NSW 2067
We will be running silent auctions on the evening and in the lead up to the night will be selling raffle tickets. We would really love your support to help sell tickets so if you think you can rustle up some raffle ticket sales please contact Suji and we will organise to get some tickets and information to you.
For a list of prizes for the raffle and silent auction please click here - this will be updated as we add more prizes.
For more information on Tallow's Tale click here and for more information on the surgery please click here
Food and drinks can be purchased on the night.
Product Reviews
Abbie
(22/07/2017 at 11:14 AM)
Great
Samantha Kuhn
(28/07/2017 at 9:14 PM)
Great