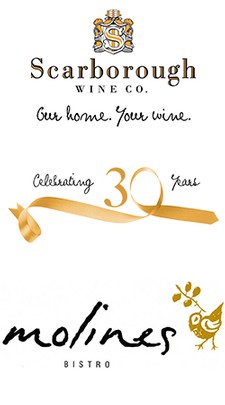 30th Birthday Luncheon
Our 30th birthday party will be held in our winery at Scarborough on Hermitage. The lunch will include canapés on arrival and then a delicious 4 course meal matched with all of your favourite Scarborough wines.
We are so excited to be able to offer you the chance to celebrate with us and we guarantee this will be one birthday party not to be missed.
We will be providing a bus service to and from the event to local Hunter Valley accommodation - more information on this will follow closer to the date.
When: Saturday 16th September 2017: 11.30am arrival and 12.30pm sitdown
Where: Scarborough Winery at Scarborough on Hermitage :972 Hermitage Rd Pokolbin
Cost: $150pp including all wines
Dress Code: Springtime soirée
Our menu for the day will be (may be subject to seasonal changes)
Entrée
Timbale of cured gravlax filled with crab, fennel and chives, light tomato vinaigrette and dill
Fig wrapped in prosciutto with a balsamic dressing
Main Course
Confit of duck leg with a duck neck sausage served with a red choucroute kipler potato au beurre
Fresh asparagus and orange glaze
Cheese Course
An individual plate of Fromage consisting of French brie, Italian tallegio and blue d'auvergne served with house made lavosh, apricot jam and walnuts
Dessert
Floating island with a vanilla crème anglaise and fresh berries