27 June 2014 | Sally Scarborough
Hunter Valley Gardens - Snow time in the Gardens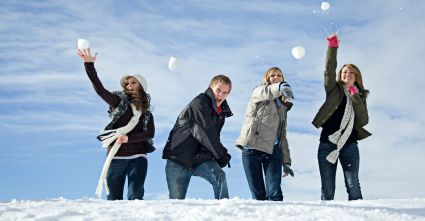 Are you thinking of going on some lovely Hunter Valley Wine Tours these school holidays? We all know that if you're out wine tasting in the school holidays you're best to have a few family activities planned so as to keep the kids happy.
Both of our cellar doors are open over the school holidays and as always are family friendly, but if you are really looking for a couple of hours of family fun and entertainment then you need to check out the Hunter Valley Gardens – Snow time in the Gardens from 27 June to 13 July 2014.
There is a range of icy experiences for all kids of all ages – whether it is ice skating, tobogganing or throwing snow balls your kids are bound to have a great time and perhaps even be exhausted enough to not nag you about going to another winery….
While you are at the Hunter Valley Gardens there are also two great spots in the Hunter Valley Gardens Village to grab a bite to eat – and a glass of Scarborough.
The Cellar Restaurant – Chef and proprietor Andrew Wright pays tribute to the region using locally sourced produce wherever possible. His menu changes regularly reflecting what is in season now.
Call 02 4998 7584 for bookings
Taste of the Country: Enjoy a glass of Pinot noir with a Ploughmans platter: what better way to revive after a run in the snow.
Call 02 4998 6605 for inquiries
For more information on Snow Time in The Garden click here and we hope to see you and your family up in the Hunter Valley these school holidays.
Comments
DanielHeller
@ 04/02/2017 at 4:04 PM
I must say the blog post is just useful for everyone else reading it because the information and knowledge it contains is very important. I like the post! Excellent job! Keep sharing such valuable information through your blogs.
https://deutscheonlinecasino.de
@ 06/04/2017 at 8:02 PM
I'm eager to find the valuable information and for me this is the right place to get the good stuff.
honest Lurn Insider review
@ 17/04/2017 at 5:16 PM
Hi, just desired to let you know, I enjoyed this blog post. It had been funny. Carry on posting!
Home Security companies boca
@ 27/04/2017 at 5:05 PM
Truly the best blog I never got such information before this thanks.
Ryan Cataldo NJ Criminal Record
@ 04/05/2017 at 8:05 PM
Thanks friends, for providing such enlightening data.
TerrTyhorp
@ 15/05/2017 at 11:04 PM
Priligy Cuanto Cuesta Cialis Generic Best Price Cialis Y Paracetamol Wirkung Von Viagra Wikipedia viagra Buy Viagra Fast Delivery Terazosin Overdose Over The Counter Deltasone Medication Alquiler Baclofen Viagra Joke
best skin lightening products
@ 23/05/2017 at 6:28 PM
Awesome! Immense information there.
wireless credit card machine for taxi
@ 25/05/2017 at 4:57 PM
This is very essential blog; it helped me a lot whatever you have provided.
Neurohacker product
@ 25/05/2017 at 5:20 PM
Miraculous blog site!! I would surely bookmark this site and every day I'll get more and more latest information.
wireless credit card processing for small business
@ 25/05/2017 at 8:38 PM
Wasp dudes! Amazing stuff continues the good work.
free credit card machines
@ 25/05/2017 at 10:00 PM
Awe-inspiring blogs, I love reading your articles.
top merchant cash advance companies
@ 29/05/2017 at 8:48 PM
Totally unique stuff is here really amazing!!!
sequoia capital india
@ 16/06/2017 at 4:12 PM
Each time I used to always check blog posts within the first hours in the break of day, because I like to get information increasingly more.