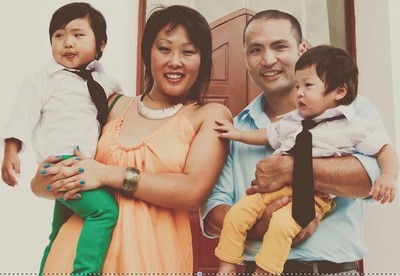 On August 10th Tallow is booked to have surgery in the U.S. The surgery is called 'Selective Percutaneous Myofascial Lengthening' or 'SPML' for short. Tallow's parents are so excited to have found SPML as the results they have seen in other kids and adults with Cerebral Palsy have been remarkable. They are comforted by the fact that it is keyhole surgery, which means that it is a minimally invasive short stay surgery, minimal scarring with a quick recovery.
At two years old Tallow was diagnosed with Spastic Diplegia Cerebral Palsy (SDCP). This means his muscles in his legs are tight and cause irregular movement. Diaplegia means it affects mostly both of his legs although Tallow also experiences some tightness in his arms. As result of his spastic diaplegia Tallow finds it physically difficult to keep up with his brother and his friends. His effected muscles are constantly in a contracted state even when they aren't working so he fatigues quickly. In addition to this his balance is compromised and his muscles work against what he wants to be doing so for him to do simple tasks such as walking, standing and kneeling it takes enormous effort and often discomfort.
He is at the age where he is beginning to recognise and question why he can't do the things that other kids his age and younger can do. As a family this is heartbreaking to hear.
Tallow's muscles/tendons are constantly shortening as he grows, this is known as contractures. Eventually he will need to have surgery to address this issue as the contractures lead to deformity and rigidity of his joints. This inturn can cause pain, issues with gait, balance, co-ordination, mobility and bone misalignment. In Australia the traditional method practiced is a very invasive surgery where they cut muscles, tendons and nerves. This results in major scarring and in many cases causes the symptoms of spasticity and contractures to become worse than before the surgery. In some instances the outcome of this invasive surgery results in life long nerve pain.
SPML will give Tallow a high chance of never having to go down this path. Unfortunately it is not a procedure that is performed in Australia. There are two paediatric orthopaedic surgeon's in the U.S. who do this particular type of tendon/muscle lengthening. Tallow's family have decided to pursue the SPML procedure with Dr Roy Nuzzo. Dr Nuzzo practices in Summit, New Jersey and has over 20 years experience. The other doctor who is in Texas, trained under Dr Nuzzo.
After the surgery Tallow will see another doctor to be fitted with specialised Ankle Foot Orthotics (AFO's). The use of these AFO's helps sustain the length in the muscles/tendons in his legs.
The combined cost of the SPML and AFO's equates to about $20,000AUD.
For more information on details of SPML and a review of 278 patients with results of surgery please go to the following link.
http://www.pediatric-orthopedics.com/Treatments/Muscle_Surgery/Perc_Lengthening/perc_lengthening.html
This is the link of another familys experience. You may find it useful.
http://www.hydroassoc.org/what-is-spml-anyway-and-try-saying-it-3x-quickly/