Blog

Everyone needs a rock in their life...and I don't mean friends (although they are great) I mean rock and roll! This is it, the rock playlist you've been hangin out for, Queen, The Beatles, The Troggs, Clap your hands say Yeah, AC/DC and Led Zepplin!
It's a great mix and perfect way to finish off our soundtracks for your NYE13 - with a bang and some smashing riffs.
Thanks once again to our fabulous friend Mr Jack Shit for putting together these fantastically ecclectic and hip shaking playlists - please check him out at www.jackshithouse.com or on Radio National's Friday Drive or hosting FBi's orignal free-form fiasco, Jack off, each Saturday afternoon.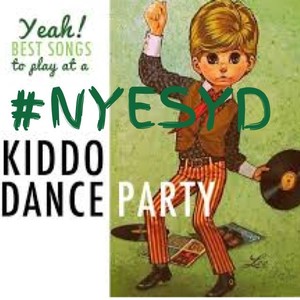 We all know the saying "Dance like no-one is watching...."and this mix is here to encourage you do just that! Now is the time to dance, dance, dance, jump around & shake your rump! New Year's is a time for joy and silliness and a time to accept what is past and what is yet to come, embrace it and dance to this playlist like no-one (or everyone) is watching!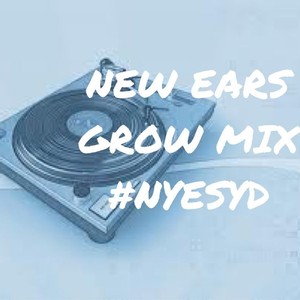 A generational playlist that brings baby boomers, Gen X's & Gen Y's together? Yep, this it it! This playlist covers the decades gone by, but you know you're going to love it because you're old enough to know that this was some of the best music ever made for a party on NYE! Our New Ears Grow Mix is for those who love a soundtrack to a night that you can sing along to but you're also nimble enough to smash out some awesome moves on the dance floor.
So start streaming this playlist - because trust me, you need enough time to dance to every one of these tracks - Stevie Wonder, Salt-N-Pepa, David Bowie, ABBA & Sister Sledge - come on - plug it in and turn it up!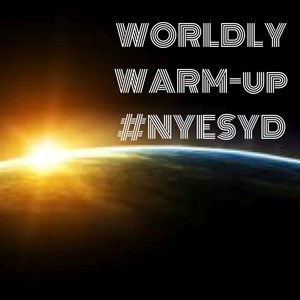 Not only are the fireworks on Sydney Harbour one of the most spectacular on NYE but we are also one of the first countries to celebrate New Year's Eve. So, our second playlist is somewhat of a welcome to the world or perhaps a wordly warm up - because that's we do best in Sydney on NYE, show everyone else how it should be done. So enjoy this mix including music from Rufus Wainright, Mondo Rock, Neil Young, David Bowie, R.E.M and more..
So click on the icon below and enjoy this ecclectic mix from Mr Jack Shit and if you love this head over to www.jackshithouse.com.au

Music can bring about moments of joy, happiness, sadness and bring memories flooding back from a time long forgotten. This year as the Official Wine Sponsor of Sydney New Year's Eve we've decided to put together some soundtracks to help you celebrate NYE13 in style and bring out the dancing queen in you all!
With the help of the wonderful Jack Shit we have built 5 Playlists on Spotify for your listening pleasure this NYE! Mr Shit is a disc-jockey for the ages - a broad-caster and eclectic specialist renowned for his detailed, site-specific sets of stirring sound. A mainstay of the Sydney Festival each January, he is also the resident purveyor of New Year's Eve inter-band brackets at Tasmania's Falls Festival. When not curating audio for weddings, iconic events and his myriad residencies around town, he can be found on air: directing musical fare for Friday Drive on RN; and hosting FBi Radio's original free-form fiasco, Jack Off, each Saturday arvo.
If you like what you hear on the playlists you should pop on over and check out www.jackshithouse.com for more of the fabulous musical musings of Mr Shit. We are going to start out with a mix to get you warmed up – a mix called Australian Maid that features some of the best Sydney bands of past and present - a perfect soundtrack for the Boxing Day test. Just click on the icon below to start listening.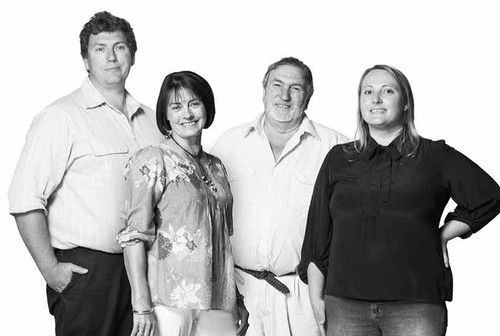 The Scarborough Wine Co is a family business. Everything we do is with our family in mind. So without our extended family of venues across Sydney, Newcastle, Hunter Valley, Brisbane and Melbourne who have helped and supported us over the years we wouldn't be here.
There are some restaurants and retailers who have supported us ever since our first vintage back in 1987 when Ian and Merralea both loaded up the Land Cruiser or 'Big Red' as we liked to call him and travel to Sydney knocking on kitchen doors and cracking a bottle of Scarborough Yellow Label with chefs and owners. This is how our story began and this is how it will continue with the help and support of our extended family.
We know that you can't always get to the gorgeous Hunter Valley but we feel comforted to know that there are many different venues (hopefully one near you) that you can go and enjoy a glass or a bottle of Scarborough.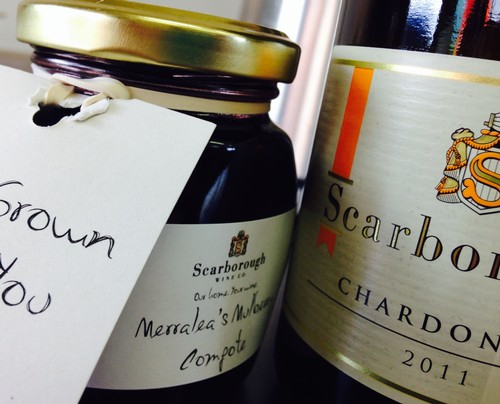 So that is why every year we spend about 5 weeks out on the road visiting all our Wholesale customers. This year we're bringing some festive cheer, a bottle of our Yellow Label Chardonnay and some of Merralea's Mulberry Compote made from the massive Mulberry tree in front of the Homestead on our Gillards Rd property. Ohhh and don't forget the pens – everyone just loves the pens!
So, thank you to every person and every venue that has helped us become a success over the years. We look forward to seeing you in the coming weeks and having a quick chat.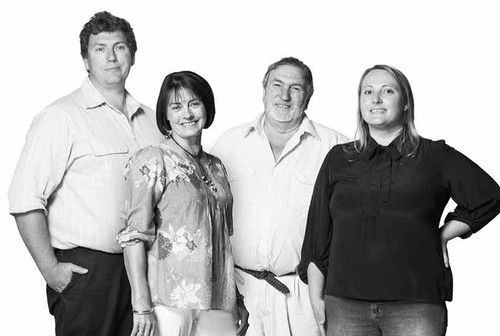 There was never any doubt that Chardonnay was going to be the variety we hung our reputation on, a grape that Scarbie loved to play with. Scarbie's fascination with Chardonnay is due to the fact that it's possible to make so many styles from the same variety.
The Yellow label was a winner from the start, aged for three years and then released, it's a wine with lots of obvious, big flavours that was launched when oaky chardonnays were all the rage.
The most compelling part of marketing this wine from the start was the success of the distinctive Yellow capsule. When we used to dine in Sydney restaurants who poured our wine, we could see who was buying yellow label.
Strangely enough it was during the mid 90s when big, oaky styles were out of vogue we were surprised to find demand for the wine went up, we never saw a decrease and it's been increasingly popular ever since.
While the Yellow label garnered a cult following, there was a demand for other styles and as the years progressed we saw the potential of making another style that could potentially be sold as an export label.
The Blue Label was born. This wine was a deliberate point of difference from the Yellow and was a more delicate style that was all about the fruit rather than the oak treatment. This wine catered well for the en-premise market and allowed us to build our reputation further with Chardonnay.
Finally with the arrival of the White Label, our trio was complete. This wine was created to typify the unique soil DNA of Gillards Road, to make a wine in the Burgundian tradition that also paid respect to Hunter terroir especially our Gillards Road vineyard with its limestone derived red soils that are free-draining and fertile. This was a wine Scarbie wanted to make, in fact all of us in the Scarborough family have a natural affinity with the grape and wanted to see this project realised as it used some of the best fruit in the vineyard and some of the most expensive oak in the winery.
Ask any of us what is it that makes the Yellow Label so special and it's simple " It's full flavoured and easy to drink, but the best sentiment come's from Scarbie himself: It's aged and ready to drink, it has flavour, it is a wine for drinking not getting all cerebral about."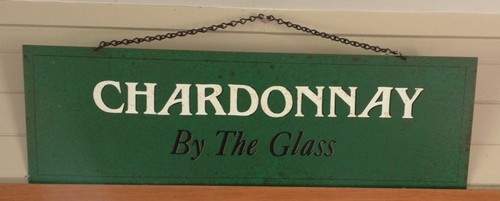 We are passionate believers and advocates for the Chardonnay grape. Considering we make three styles we have to be. But it's what our reputation has hinged on since the mid- eighties and Scarborough Chardonnay is as much about the region as it is about winemaker Ian 'Scarbie' Scarborough. You have to remember that Chardonnay in Australia began its life here. Although only 40 years old it has a proud history with people like Tyrrell's, Lakes Folly and Rosemount all contributing to its success.
Many winemakers will tell you that it's a blank canvas grape, but without the right soil and the correct clones you've got nothing. Many will say that the Hunter is unsuitable for the variety but despite the challenges of variable weather it actually has the ability to make wines that last and show immense character.
Today we see so many producers having a go and making wines that typify the region but stylistically are individual and maintain a winemaking integrity:
Here are some of the producers doing great stuff with Chardonnay in the region:
Lakes Folly:
Still one of the original pioneers of Chardonnay in the Hunter Valley, Max Lake's legacy is continued in the winery where they produce only two wines. The Lakes Folly Chardonnay has become one of the few Chardonnays from the region that is a must for wine collecters.
Tyrrell's:
Tyrrell's tell a funny story of how they asked Penfolds for Chardonnay cuttings back in he 70's after being refused Murray Tyrrell did a midnight raid on the vineyard and helped himself to some choice clippings. That's how Vat 47 came to be. Today it is still viewed as an Icon for Chardonnay from the Hunter Valley.
Mistletoe:
The quiet achiever, Ken Sloan has pursued making the best Chardonnay he can from the Hunter and his wines have been awarded with an astounding number of trophies. He is ably assisted by winemaker Nick Paterson, part of a new breed of Hunter Valley winemakers forging an individual style with Chardonnay.
First Creek:
Another formidable team of Young Winemaker of the year Liz Jackson and Damian Stevens making a consistent style of Chardonnay that continues to wow the critics. The 2011 Winemakers Reserve was awarded best regional Chardonnay by James Halliday, in his inaugural Chardonnay Challenge. It's a wine of immense complexity but at its core is quintessential Hunter Valley fruit.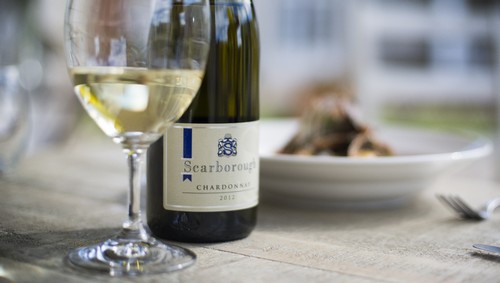 The pendulum for Chardonnay has finally swung back into favour. There was a time where it looked quite bleak for Australian Chardonnay. In the 80s we pleased and pampered the palates of the global market with approachable fruit and obvious oak that took the "sunshine in a glass" philosophy to new levels. Then there was a revolt. Just as quickly as it had become fashionable to love oaky, Aussie Chardonnay. It soon became the thing of derision. The oak became overbearing, the fruit too sweet, the flavours too in your face.
Chardonnay went through its bad patch. But in the last few years it's seen an about turn, winemakers have been more considered in their approach. Time spent in wine regions overseas has taught a new generation of winemakers a few things. Site, clones, picking times and oak regimes have been shaken up in the pursuit of something progressive and exciting. Welcome to the brave new world of Chardonnay


Hunter Valley Semillon is a perfect match to seafood. Whether it is a light, fresh and zippy younger Hunter Valley Semillon or an aged style showing more complex and oily characters seafood is what's needed.
There is always that classic match of Semillon and freshly shucked oysters but one of my favourite food matches with a young and fresh Hunter Valley Semillon is ceviche.
A really easy ceviche recipe that I have used quite a few times over the years is from good old Jamie Oliver with his Asian Style Tuna Ceviche, but really when it comes to ceviche it is just having an understanding of the basic elements that make a ceviche and then you can come up with all kinds of flavour combinations. Click here to check out the recipe.
Ceviche is basically raw fish (sashimi grade) or you can also use any shellfish (or any seafood at that) which is then marinated in citrus juice (lemon or lime) and the acid in the citrus juice coagulates the proteins in the fish, effectively cooking it. If you are a fan of sashimi I definitely recommend trying it out, but make sure you always serve it not long after preparation as the seafood will begin to 'cook' almost immediately.
I would recommend trying our 2013 Green Label Semillon with this ceviche. As the wine is a more flavourful expression of young Hunter Valley Semillon the herbaceous characters work really well with the Asian flavours and also the crunch of the lettuce with the zippy acid cutting nicely through the little bit of heat from the chilli.